Wrapify Looks to Bring Taxi Top Ads Up to Speed
Sunday, January 26, 2020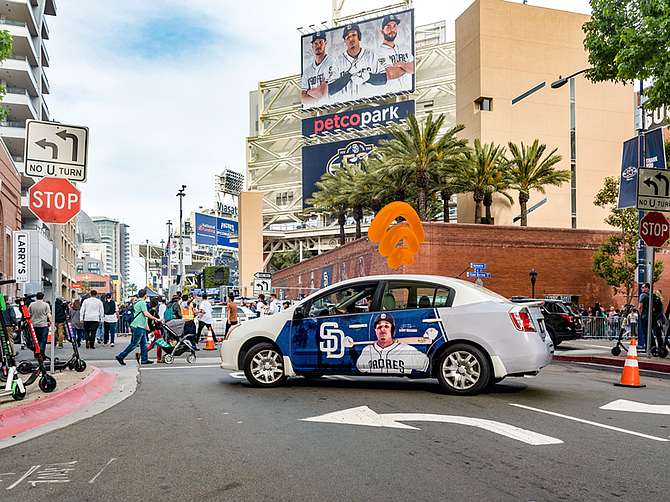 Taxi top advertising is a $30 million industry in New York.
The San Diego-based startup Wrapify, which got its start by offering vehicle-based advertising in the form of a vinyl-based advertisement placed around all or part of a car, launched a new product to gain a stake in the lucrative taxi top industry.
Wrapify's Static+ Rideshare Topper will create more opportunity and avenues for brands to get out their messages and for drivers to further monetize their time on the road via the digital platform, the company said.
Wrapify partners with brands and media agencies to bridge the gap between the growing gig economy and out-of-home (OOH) advertising.
Recognized as a 2019 Inc. 500 America's fastest-growing private companies, Wrapify is a rideshare advertising platform which has been used by a variety of brands including Google, eBay and Microsoft.
Founded in 2015, Wrapify classifies itself as a performance-driven ad-tech platform for brands powered by out-of-home (OOH) advertising and the gig economy.
Wrapify has raised $9.2 million in venture capital funding and is actively raising funds for its Series B financing round. The company would not give revenue figures.
Over the last five years, the company has built a strong operational network that has allowed it to construct this innovative product at scale, opening doors for more organizations to utilize OOH advertising, a rapidly growing industry.
Wrapify's CEO, James Heller, said, "We're in an interesting time for OOH advertising, the industry is growing rapidly, having doubled industry growth expectations and is on track to outpace traditional media platforms."
According to the Out of Home Advertising Association of America, OOH advertising grew nearly 8% in the second quarter of 2019 — the best quarterly growth period since the great recession. Seventy percent of the top 100 OOH advertisers increased their spend over the last year, including Apple, Amazon, and Facebook.
Competitive Edge
"When you're buying traditional media advertising, for example: print, television, or billboards, it can be hard to measure return on investment (ROI)," Heller said. "With Wrapify's platform, we can now make historically hard-to-measure, media advertising — measurable."
Wrapify filed a provisional patent securing its efforts to collect geolocational data to measure and aggregate driver data to efficiently match drivers to the right campaign. Heller said the technology helps measure insightful metrics such as in-app conversion, site visitation, retail foot-traffic and more.
To ensure clients are satisfied with the brand's appearance and creative work, Wrapify houses a creative team to handle the visuals and collaborate with certified installers to maintain consistency across all makes and models of vehicles used in campaigns.

100 Brands and 200,000 Drivers
To date, Wrapify has collaborated with over 100 brands and has over 200,000 drivers signed up to use its platform.
"An obstacle we've had to face is having too many drivers and not enough brands" Heller said, "Anecdotally speaking, if we could service every driver on our platform we'd be a $4 to 5 million annual revenue business."
Customer satisfaction is important to Wrapify. Last year about 65% of the company's revenue came from brands and agencies who have worked with Wrapify more than once.
San Diego Padres Partnership
The San Diego Padres integrated Wrapify's platform into its media mix, creating a geofence around Petco Park, As a result, the organization saw significant campaign results including a 1,005 percent lift in foot traffic, meaning people who saw an advertising car were 10 times more likely to attend a game.
"We have people coming to games and having a great time, but no way to go back to track how they got there," said Wayne Partello, San Diego Padres chief marketing officer. Being able to know who comes in contact with our advertising and whether they actually enter the ballpark is huge for us." The Padres, renewed their contract and will continue working with the startup this year, the team said.
Assembly Bill 5
The Assembly Bill 5, a state bill passed by California legislators is stirring the gig economy industry, causing tech giants like Uber and Lyft to restructure their policy with independent contractors. Wrapify will not be directly affected, Heller said.
"I expect our company to be impacted more indirectly, if anything, as we only handle more of the external real estate side of things." Heller said, "Although, not a problem for us, I'm seeing a lot of gig economy proponents being directly affected in terms of their revenues."
Looking Ahead
Looking forward, the company recently added 23 tech and sales jobs and anticipates doubling that amount within the next 12 to 18 months.
In 2019, they have adopted more users to the platform than all previous years combined, entering the new decade they look to build upon the traction organically while bringing more brands on board. Heller confirmed that future products are in the pipeline.
San Diego Tech Ecosystem
As a founder who has been a part of the developing San Diego tech ecosystem, Heller said that he's seeing a lot more access to venture capital than when he started in 2015. Heller said that the era of the valley, (Silicon Valley) being the "end all be all" for building a startup is coming to an end.
"Building a startup here is very difficult compared to other metropolitan areas but we (San Diego), have an amazing talent pool and have great things happening socioeconomically; making it a favorable place to start and build a company."