Life Time Moves Into La Jolla With Upscale Wellness, Fitness
Thursday, January 23, 2020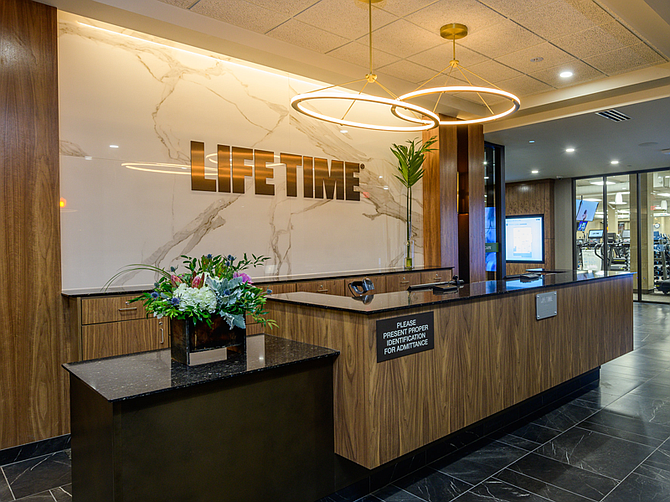 In late December, Life Time Inc., the athletic resort chain founded in 1992 and with approximately 150 clubs throughout the U.S. and Canada, made its foray into the San Diego market with the opening of Life Time La Jolla.
Located in La Jolla Village, the two-story, 46,000 square foot club employs roughly 200 and offers amenities like personalized training and group fitness classes, LifeSpa, a full-service salon and spa, and LifeCafe, the company's fast-casual, onsite restaurant and bar. With the opening of the La Jolla location — the fourth in California — and others slated to debut later this year, Life Time is projected to reach $2 billion in revenue in 2020, according to the company.
Epicenter of Fitness
"San Diego is the epicenter for fitness and people who are mindful about their health, which really aligns perfectly with the Life Time culture," said Brian Gaeta, area director for Life Time Inc. "We have been looking for the right opportunity to bring Life Time to the San Diego area and couldn't be more excited about this location — right in the heart of La Jolla. We are inspired by the people of La Jolla, their passion for life, and their dedication to wellness."
Life Time La Jolla will offer nearly 20 group fitness formats ranging from boxing-inspired workouts to strength training, Pilates, Barre, Yoga and more, said Gaeta. Classes are available daily starting at 5a.m., with almost 150 group fitness classes available each week, he said.
Fast-Casual Restaurant
Elsewhere, LifeCafe is a full-service, fast-casual restaurant and bar that serves chef-driven cuisine and is open to members and non-members alike. Life Time's LifeCafe Executive Chef, Ryan Dodge, worked closely with trainers and dietitians to create meals and snacks rich with nutrients, said Gaeta, including salads, bowls, sandwiches and smoothies that support members' health and wellness goals. Additionally, Life Time La Jolla offers discounted rates for students and young professionals, he said, and can accommodate up to a few thousand members, with monthly memberships starting at $199.
Because Life Time is more of a luxury athletic resort-style destination, it introduces a totally new category of fitness to San Diego, said Gaeta. In the future, he said Life Time will continue to build its brand through the development of large, mixed-use lifestyle centers that feature Life Time fitness centers, Life Time Works coworking spaces, and Life Time Living, which are high-end leased residences. The company is not only expanding through the opening of new locations throughout the country, said Gaeta, but also advancing the experience beyond its resort-style clubs.
Much More Than a Gym
"Life Time is not your typical gym — in fact, we don't even like to use the word 'gym,'" he said. "It's a complete luxury athletic resort-style destination with more amenities and offerings than you will find at any boutique gym. People choose Life Time because we go beyond fitness to encompass the entire spectrum of daily wellness — from healthy dining options to spa treatments to social events and more. Life Time is one of the only places where you can complete all your health and wellness needs under one roof."
In 2020, Life Time has plans to open up to 15 new locations throughout the nation, according to Gaeta, with the next club — in San Clemente — opening Jan. 23.