Accounting Firms Must Search and Spend for Talent
Thursday, January 23, 2020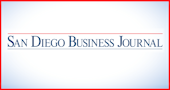 Accounting professionals in San Diego find themselves in demand, and can command a salary 29% higher than the national average.
The Robert Half International 2020 salary guide for finance and accounting says that companies are focused on retaining their best workers by keeping salaries at least on par with competitors.
Low unemployment and a good economy seem to be driving up pay and benefits.
Aron Getty, partner with Considine & Considine, has spent more than two decades in the field.
It is "the most competitive market I've seen," he said.
"Accounting firms are fighting over top talent," said Jerry Varga, office leader at RSM in San Diego.
"Topnotch people are not inexpensive," said Victor Ramsauer, CEO of LevitZacks, though he also noted that it takes more than salary to recruit and retain talent.
Work-Life Balance and Florida Beckon
Indeed, Robert Half's national survey found employers dishing out better perks than competitors, and providing opportunities to advance.
Big Four accounting firms can offer perks such as training on a big-business budget. Eric Hornsten, San Diego managing partner at PwC, said his firm has made a commitment to invest $3 billion globally to provide employees with new, digital skills. Cathy Gonzales, managing partner of KPMG's San Diego office, said her firm recently opened an 800-room training facility near Orlando, Florida, with hotel accommodations. KPMG plans to hold continuing education classes there.
Getty said his new hires are looking for work-life balance.
Company culture is a huge issue, the Robert Half report said. A survey commissioned by the staffing firm saw more than 1 in 3 workers say they would turn down a job offer that was otherwise perfect if the corporate culture wasn't right.
Culture is basically how one identifies with the people who are there in the workplace, said John Asdell, regional vice president for Robert Half in San Diego. Some days are better than other days at work, Asdell said. "Culture becomes more important when things are bad."
LevitZacks is a small, local firm, but one that's gotten some notice. Accounting Today named it the best small firm to work for in the United States, crediting the office climate to Ramsauer and former CEO Theresa Drouillard, who retired on Dec. 31. The publication describes small firms as those between 15 and 49 employees. Some 57% of the staff at LevitZacks is female, as is 39% of the leadership. The business boasts voluntary turnover of 5%.
Notable about LevitZacks, the publication said, is its "no jerk" policy, which includes careful hiring.
In general, recruiters for the industry are widening their focus. The age that accounting firms are beginning to recruit seems to be getting lower. RSM's Varga recalled that in the 1990s, firms would reach out to college seniors and juniors. Now there is a focus is freshmen and sophomores, he said.
A Range of Salaries
In the current economy, Asdell recommends employers move quickly in hiring, since the candidate is in the driver's seat. He also said employers' first salary offer should be their best offer. 2020 is not the time to play the salary negotiating game.
The Robert Half guide lists the national average starting salary for a first-year employee in tax services at a CPA firm as $40,250 on the low end and $75,250 for the most experienced candidate.
The number is national. For the San Diego market, average salaries must be increased by 29 percent. That would put a first-year tax service employee at $51,900 at the low end and $97,100 at the high end.
Salaries from the national average must be increased by 41 percent for San Francisco and 40 percent for Silicon Valley. Salaries for Fresno are 8 percent below the figure.
A person beginning a job as senior manager on the tax side of a CPA firm would receive $146,700 in San Diego ($113,750 nationwide). A top manager would receive $279,000 in San Diego ($216,000 nationwide). Salaries are slightly less for senior managers in audit and assurance.
The figures exclude bonuses and incentives, which according to Robert Half are an increasingly large part of overall pay.
Corporate accounting pays more. A beginning chief financial officer in San Diego would have a salary of $157,000 ($121,500 is the national average). The most experienced of CFOs receives a salary of $642,500 ($498,000 is the national average), according to the Robert Half survey.
These, of course, are averages.
George Davis, former CFO of Qualcomm Inc., received $760,000 in that job in 2018 with six years of service to the company, according to a March securities filing. The figure does not include cash or stock bonuses. Davis left Qualcomm for a similar job at Intel in April. Akash Palkhiwala, filled in on an interim basis, and the company named him to the job permanently in November. Palkhiwala's base salary is $750,000 and he will be eligible to receive a cash bonus of up to 100 percent of his base salary. 