Taxes and Other Rules...Accounting in Flux
Wednesday, January 22, 2020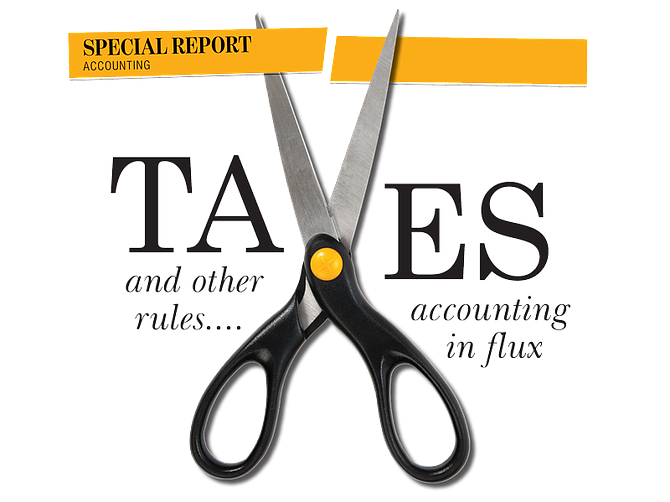 It's 2020 and the world looks different from the accountant's chair
"The pace of change has never been faster," said Robert Bruning, managing partner of the San Diego office of Ernst & Young.
"From seeing the most recent sweeping tax reform in the last 30-plus years to a concerted push for automation and improved cybersecurity, our profession continues to evolve in the fast-paced environment of meeting client demands …," wrote Tom Zonaras, tax partner at JGD & Associates in the University Towne Center business district.
The profession is changing and it will continue to change with technology, he said.
Tax Reform: More to Come?
Companies, regardless of sector, will continue to feel the impacts of the 2017 Tax Cuts and Job Act, said Ernst & Young's Bruning. The U.S. government recently clarified regulations for companies doing business overseas; firms are now mulling how those rules might affect current results and long-term tax planning.
The new law changed taxes for individuals as well as businesses.
Brad Gastineau, who spoke to the Business Journal for a similar story at this time last year, said there is now more clarity to the Tax Cuts and Jobs Act.
"It hasn't gotten any less complicated," said Gastineau, tax partner at Gatto, Pope & Walwick in Mission Valley. He said he is anticipating another busy year.
In many cases, business income appears on individual tax returns.
People running so-called "pass-through" businesses should not be surprised if they have to give their accountant more information this year, Gastineau said. The Internal Revenue Service wants more details on such business this year, and more disclosure will mean more of the accountant's time.
Most small businesses are pass-through businesses. For individuals involved in pass-through businesses — those structured as sole proprietorships, partnerships or S corporations — the 2017 law provides a 20 percent deduction on qualifying pass-through business income.
Looking ahead, the Trump administration plans to issue its 2021 budget proposal on Feb. 10.
"[A]t this time it is not clear to what extent tax reform will be included," Bruning wrote. "However, as 2020 is an election year, we expect tax legislation to continue to be a topic of conversation throughout the year."
Of course, taxes don't stop at the water's edge.
"Our clients are consistently telling us that, overall, tax laws on a global basis have become more complex," wrote Corey Litteken, partner with Deloitte Tax LLP. "With additional rules being enacted related to the taxation of digital services, and more jurisdictions trying to tax 'their fair share' of a company's earnings, we see the complexity as well."
Watch for more rules from global taxing jurisdictions in 2020, he said.
A New Twist on Audits
On the assurance, audit and attest side, things are changing.
Today's audit chain looks different than it did a couple of decades ago, said Cathy Gonzales, managing partner of KPMG's San Diego office. An audit team can include specialists in information technology, data science and cybersecurity.
Certain rules for revenue recognition and leasing are in flux.
A new lease standard called ASC 842 goes into effect for many businesses in 2021, but companies ought to start thinking about it now, particularly if they have a lot of leases, said Jerry Varga, office leader at RSM in San Diego. Retailers are one set of businesses to be affected by Accounting Standard Codification 842.
So are health care and telecom companies, said Stephen Austin, managing partner for Swenson Advisors in downtown San Diego. He noted that AT&T has 200,000 leases. Half of them are cell tower sites.
Previously confined to the footnotes of a balance sheet, leases for real estate or equipment are now listed under assets and liabilities on a company's balance sheet. (The asset is a right to use a piece of property.)
Austin is involved in a separate business called Accountlease.com, which was specifically set up to deal with such matters.
The Advisory Piece
Audit and tax are good services, but the market expects more from accounting firms.
There has to be some value added, said Lee Duran, partner at BDO's local office in Carmel Valley.
"You have to bring ideas to the table," he said.
Whether or when there will be an economic slowdown is up for debate. Eric Hornsten, San Diego managing partner at PwC, said recession is a factor "we can't control." However, he said there are things his firm can do to help clients through such a period. They include helping clients adapt to disruption and align cost structure to business strategy.
Hornsten's specialty is deals: acquisitions, divestitures, initial public offerings and financings.
Advisory services have taken on a distinct, technological feel. KPMG's Gonzales said such conversations might include blockchain technology, intelligent automation and fifth-generation (5G) wireless telecommunications technology.
Technology has allowed accounting firms to respond to clients faster, said Austin of Swenson Advisors.
He said his office aims to respond to client requests within 30 minutes. In the normal course of business, some firms don't get back to clients in days.
Swenson Advisors also tries to beat regulatory filing deadlines by 10 business days.
Clients seem to be a lot happier with that sort of service, Austin said. Last-day or last-minute responses "drive everybody nuts," Austin said.
Several of the CPAs interviewed said 2020 was an exciting time to be in accounting.
There is "a lot of fun stuff if you're a CPA, interesting work," said Victor Ramsauer, CEO of LevitZacks in downtown San Diego.
There are challenges to navigate, Hornsten said. Which is not necessarily a bad thing.
"I'm as engaged as I've ever been at PwC," he said.