Paleo Treats Finds A Niche in Diet's Dessert Market
Wednesday, January 22, 2020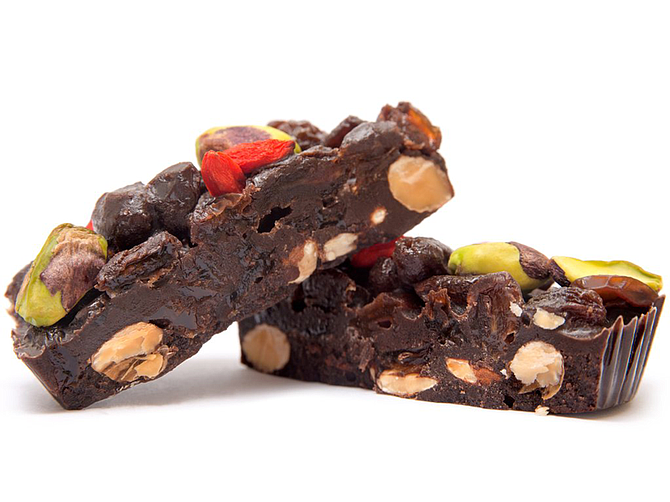 Inspired by a friend who was practicing the paleo diet in 2009, Nik Hawks and his wife, Lee Selman, decided to join the diet trend and launch a line of desserts and treats out of their home kitchen for the paleo community. Today, Paleo Treats, headquartered in Normal Heights and with five employees, is on track to reach $400K in revenue in 2020, according to the company.
"We ate strict Paleo for about two weeks before realizing there wasn't a good dessert option on the market," said Hawks, who didn't have any formal baking training. "We had deep ties to the CrossFit community, so we made up about 2,000 treats in our kitchen and took them up to the 2009 CrossFit Games in Aromas, Calif. We figured we'd sell as much as we could, give a bunch away to the athletes, and bring the rest back home to hand out to local CF gyms… We sold out about 10 o'clock in the morning the second day. From there, we knew we had a really good product and we needed a way to scale, and fast."
When Hawks and Selman, the latter who has a holistic health practitioner degree, returned to San Diego, they immediately found a gluten free bakery that was willing to make their recipes to specification.
FedEx Small Business Grant
They took $5,000 each to get things going at first, said Hawks, adding that the CrossFit community was almost all of its demographic until about 2015. It was then that paleo, a diet that typically includes meats, fish, fruits, vegetables, nuts and seeds (no dairy products, legumes and grains), began to gain popularity on a national level, said Hawks. As a result, that same year, Paleo Treats was awarded a grant from FedEx through its small business grant contest when it recognized the company as one of the top 10 small businesses in the country, he said. And, things began to take off from there.
In 2016, Paleo Treats opened its retail walk-in store, now in Normal Heights. It also grew its wholesale portfolio outside of CrossFit, mostly contracting with small mom and pop stores across the country, said Hawks. Paleo Treats also sells through its online store.
The company carries its flagship line of six products, which includes The Bandito (an almond butter cup with chocolate cap); the Brownie Bomb (a flourless chocolate cake); the Cacao Now (a chocolate fruit and nut bar); the Mustang (a cross between cookie dough and granola); the Mac Attack (a coconut cookie); and the Rocket (an espresso brownie). Hawks said each treats takes about 10-30 iterations before they get the formula just right. He also said, at the Paleo Treats Normal Heights store, they also carry a variety of local gluten/grain/dairy free desserts, like Jule's Foods' Brie, Cascaraa tea, Trident Coffee and Edible Alchemy's Coconut Yogurt.
Locally Sourced
Hawks said most of the nut products the company sources come from a local nut supplier, and the honey is sourced locally as well. He said Paleo Treats aims to use organic products whenever available, although they don't guarantee it.
Up until 2019, Paleo Treats worked with the local gluten-free bakery for production, making about 2,000 treats at a time, said Hawks. That same manufacturer would package and label the products that Hawks and Selman would then pick up, ship as needed and freeze the rest. But last year that facility was sold to a local cannabis company, so, Hawks and his wife are back to baking the goods themselves in a small production kitchen they are currently renting, he said.
While it's more work for the two for now, Hawks said he is excited to have the opportunity to get back in the kitchen and test new products with the San Diego community.
"We are super excited in 2020 to have the time and space for further product development," he said. "We've been working on a long list of products that just didn't make sense to go into production with at large levels, but with the shift back to Lee and I making everything, we can experiment and test out small batch runs specifically with our local walk-in customers."
Profit Margin Can Be Small
While there aren't many competitors on the Paleo side, mostly because there isn't a huge profit margin, Hawks said, Paleo Treats now has a lot of competition in the gluten-free space (although they mostly rely on non-paleo sweeteners to make their products, he said). One of the hardest parts of running the company is educating customers on why it's not a good idea to buy cheaply made desserts, said Hawks. Selman and Hawks intentionally dedicate a lot of their time to educating people about food and health.
"With the variety of diets out there — keto, paleo, vegan pescatarian, carnivore, etc. — it can be confusing regarding how and why each one might or might not work for you," he said. "After 10 years on the Paleo diet, we've found paleo works well for us and it's where we generally recommend people start. Still, we've seen too many success stories on every diet to say that no other diet will work. Different people respond differently to food, and while there are a few basic commonalities across almost all effective diets, it can help to have an expert guide you through what might work best for you."
Teaching Classes
Hawks said he and Selman teach classes about the seven pillars of paleo (nutrition, movement, nature, community, restoration, the mind and creativity) at the Paleo Treats store a few times a year. And, the two typically spend 30-90 minutes a day answering questions from walk-in customers related to nutrition.
"All that adds up to strong family-like customer base and an ever-growing group of people who can make educated decisions on food, including, of course, dessert," he said.