San Diego Companies Find Deals and Dollars at Health Conference
Thursday, January 16, 2020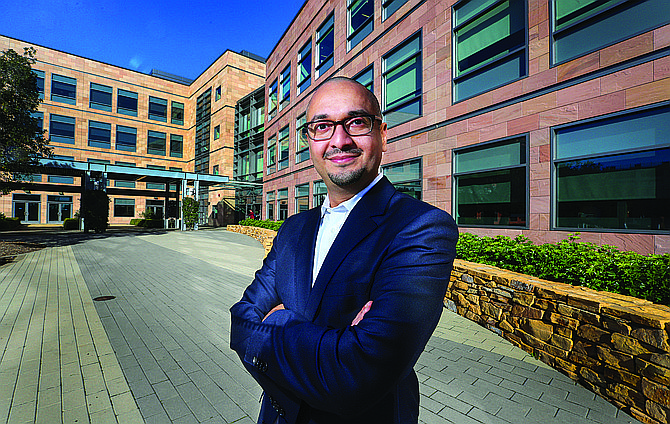 Two DNA sequencing companies raised more than $140 million combined, Daré Bioscience inked a potential commercialization deal worth up to $310 million, and Human Longevity sold its cancer division for $37 million, and separately, acquired a company.

Those were a few of the San Diego highlights announced before and during the J.P. Morgan Healthcare Conference, biotech's biggest annual meeting that kicked off Jan. 13 in San Francisco.
Closely watched was a presentation from Illumina, San Diego's largest life sciences company with a $47 billion market cap.
Illumina debuted two new DNA sequencing machines, which look to lower sequencing costs and quicken the analysis of genetic data. Such data has proliferated, from ancestry tests to researchers shedding light on disease risk.
Analyst Puneet Souda with SVB Leerink said the announcement overshadowed Illumina's growth outlook that came in below expectations.

In unaudited financials Illumina recorded $3.5 billion in 2019 revenue, which Illumina CEO Francis deSouza said during the event is expected to rise 9% to 11% this year. Wall Street analysts expected a 12.6% increase in revenue during the period.
Souda said the company will likely exceed its conservative forecast, in part because of more government initiatives to study the genes of large populations. The goal: spur better diagnosis and treatment.
Illumina and Genomics England — which is affiliated with the U.K. government — during the conference announced a partnership to sequence up to 300,000 genomes over five years.
"In 2020, these projects should begin to scale and contribute more meaningfully to revenue growth," Souda said.
Longer term, Illumina also announced, during the event, a 15-year partnership with Roche, eyeing improved cancer prediction, detection and treatment, including collaborating on diagnostics.
This year has already been eventful for Illumina. Before the conference, the company said it would no longer buy Pacific Biosciences for $1.2 billion, following antitrust action from the U.S. Federal Trade Commission and the U.K.'s Competition and Markets Authority.
Beyond Illumina, smaller genomics outfits in San Diego plan to staff up after recent financings.
Element Biosciences on Jan. 9 announced an $80.3 million round as the company seeks to make genome sequencing more accessible.
"Element's vision is to create disruption in each of the basic elements that comprise a sequencing platform, such as surface chemistry, sequencing chemistry, detection, and data analysis," said Molly He, CEO and co-founder of Element.
That same day, Omniome closed a $60 million round. The company — among those in San Diego with an Illumina pedigree — will use the funds to finish prototype DNA technology instruments.
"Omniome has made incredible progress over the past couple years maturing from an early product concept company to a late-stage product development company," said Ken Song, Omniome's executive chairman. "The goal and vision have always been to develop a disruptive sequencing technology taking into account accuracy, speed, throughput and cost."
Human Longevity — a La Jolla company that strives to make medicine more predictive — on Jan. 10 sold its oncology division to Florida-based NeoGenomics for $37 million.
"The sale of this division allows us to focus entirely on longevity and extending the healthy, high-performance human lifespan," said David Karow, president and chief innovation officer of Human Longevity, in a statement.
Besides the $37 million in sale proceeds, the company in November raised $30 million.
Human Longevity says it assesses current and future health risks, drawing upon genome sequencing, lab tests, artificial intelligence and machine learning.
Less than a week after the sale, privately-held Human Longevity announced it bought DoctorsForMe, a San Francisco firm that matches patients who have complex needs with doctors. Deal terms weren't disclosed.
"The acquisition enables Human Longevity to provide a complete health intelligence solution for our clients from early disease detection to personalized treatment," Karow said.
Human Longevity in early 2017 was valued at $1.6 billion, but nearly two years later received a $300 million valuation amid struggles to expand beyond its La Jolla testing site.
At the start of the J.P. Morgan Healthcare Conference, pharmaceutical Bayer and San Diego-based Daré Bioscience announced a licensing agreement revolving around Daré's investigational contraceptive, called ovaprene.
Daré received an upfront payment for an undisclosed amount, and if the U.S. Food and Drug Administration approves the product, Bayer could pay an additional $20 million for exclusive commercialization rights.
In addition, Daré would be eligible for up to $310 million in commercial milestone payments, plus royalties on sales.
The company later this year is planning a late-stage clinical study of ovaprene, a vaginal ring it developed to block out sperm. It doesn't have hormones, unlike birth-control pills that can cause depression and other side effects.
In November, Daré acquired Microchips Biotech, a company that makes chips implanted under the skin to deliver medication over months or years. The acquisition complements Daré's women health pipeline, the company said.
No Big Deal
Previous J.P. Morgan Healthcare Conferences saw major acquisitions, including San Diego's Impact Biomedicines being acquired for up to $7 billion in 2018. While a flurry of news accompanied this year's conference, it was quieter on the merger front.