Executive Behind Growth of $850M Cubic Corp. Division to Move On
Tuesday, January 14, 2020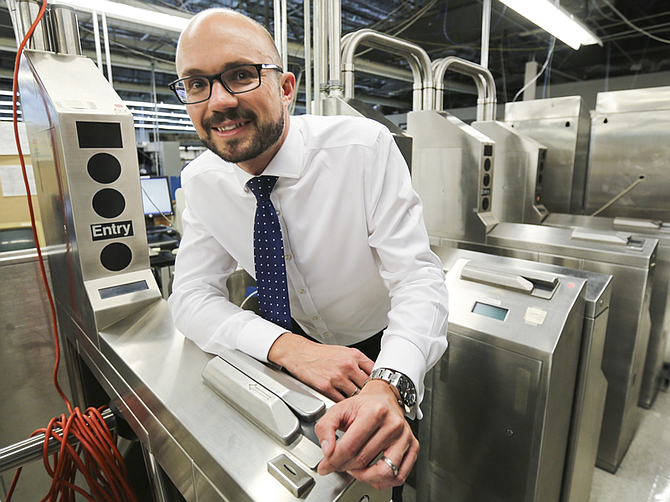 Matt Cole, the executive who has led Cubic Corp.'s transportation business unit since 2015, plans to leave the company, the Kearny Mesa business announced on Jan. 7.
Cole wouldn't give specifics on his future plans, or say whether he plans to leave San Diego. "My new employer will announce my position in due course," he said in an email.
"I'm excited to take on a leading role at a major technology business in a different, yet significant market," he wrote in a blog post.
Laurent Eskenazi will be interim president of Cubic Transportation Systems, beginning Jan. 13. Currently Eskenazi serves as managing director for Cubic's transportation business in the Europe, Middle East and Africa region. The territory includes London, a longtime user of Cubic fare collection technology.
On Track for $1B in Sales
Cubic's transportation arm has 3,100 employees. It had sales of $849.8 million in 2019. Sales will soon reach $1 billion, Cole wrote in his blog post.
In fiscal 2018, sales for the transportation arm were $670.7 million. A small part of that 27% growth was due to an accounting change called ASC 606. Cubic's North American business was a major factor in the growth between 2018 and 2019.
Operating income was $77.2 million in 2019, up 28% from $60.4 million in 2018. Adjusted earnings before interest, taxes, depreciation and amortization (or adjusted EBITDA) was $110.5 million in 2019, up 51% from $73.3 million in 2018.
Cubic Corp. (NYSE: CUB) is also a defense contractor. As a whole, the corporation had revenue of $1.5 billion last year.
Cubic said it plans to look internally and externally for Cole's successor, and has retained Dinte Global Executive Search in the recruitment process.
A 17-Year Career
The 40-year-old Cole joined Cubic in 2003 as a project accountant, advanced to positions in London and Sydney, and was eventually tapped to run Cubic's transportation arm in San Diego.
"Over his 17-year career with Cubic, Matt has made significant contributions to our company, most recently in operationalizing and growing our transportation business, advancing our NextCity vision and executing strategic priorities, particularly related to mobile and Intelligent Transport Systems. On behalf of Cubic and the board of directors, we thank him for his leadership and service to Cubic and wish him well in his future endeavors," said Brad Feldmann, Cubic's chairman and CEO, in a statement issued by the company.
"During this time of transition, Laurent brings extensive strategic and operational experience in ticketing and revenue collection globally and we are confident in his ability to serve in this interim role," Feldmann said.
Under Cole, Cubic signed several major transit agencies to fare-collection contracts and updated its fare-collection technology.
Looking Back
"I'm proud of my entire team and we've done much together over the last 17 years," Cole wrote when asked about his accomplishments. "[H]owever things that stand out to me including the Future Ticketing Agreement in London, the acquisition of ERG's North American business, winning the Sydney contract, creating the NextCity vision and the thought leadership it has provided, and everything that has led to the financial performance of CTS under my 4¼ years of leadership. I'm proud of the fact that CTS's trajectory is ahead of our GOAL 2020 target and that we nearly achieved it a year early."
As for things Cole would have done differently?
"There's always things that could have been done differently and everyone makes mistakes," he wrote. "Generically I would say the things that I would do differently are those decisions where I went against my instincts, yet my instincts were later proved to be correct."
Cubic generally serves big cities. On Jan. 6, the business announced that it closed its $42.9 million acquisition of Vista-based Delerrok, which offers a fare-collection solution for mid-size and small cities.
The enduring mental image this reporter has of Matt Cole is of the executive showing me his not-yet-worn "lucky" necktie, hung on a hook on the back of his office door, during a 2016 interview. He planned to wear it to a meeting to sell New York City authorities on an improved fare collection system.
As it happened, Cubic got the contract. n