DNA Sequencing Company Element Biosciences Raises $80.3M Round
Monday, January 13, 2020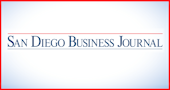 Element Biosciences, another San Diego upstart that's trying to make DNA technology more accessible, recently raised an $80.3 million round.
The company joins Roswell Biotechnologies, Singular Genomics and Omniome in pursuing DNA sequencing platforms, in what could be direct or indirect competition to Illumina, a heavyweight in genomics that's based locally as well.
Sequencing a person's genome can make for quicker diagnosis or shed light on health risks, among other common uses. Element said it wants to put such technology in the hands of labs that are constrained by capital and lack operating knowledge.
The company's funding, a series B round, comes after Element emerged with a $15 million financing last June.
"Element's vision is to create disruption in each of the basic elements that comprise a sequencing platform, such as surface chemistry, sequencing chemistry, detection, and data analysis," said Molly He, CEO and co-founder of Element, in a statement.
"With a combination of Element's proprietary technologies and the latest developments in these respective areas, we have developed a flexible, modular, and high-performing sequencing platform."
With the funding, Element plans to move its headquarters to a new 30,000-square-foot facility in University Towne Center. The company said it plans to grow its workforce in both San Diego and San Francisco, where it has an office.