LevitZacks Names New CEO
Sunday, January 12, 2020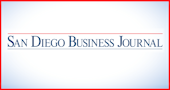 San Diego-based LevitZacks, a Certified Public Accounting firm, named longtime President Victor G. Ramsauer as its new chief executive officer.
As part of LevitZacks' long-range succession plan, Ramsauer is replacing former CEO Theresa Drouillard who retired. Chief Operating Officer and Executive Vice President Sue Watson continues to round out the leadership team while spearheading the firm's operations, as she has the past 13 years, the company said.
According to LevitZacks, "Ramsauer will continue to provide senior leadership regarding business development and strategic planning. He continues to advise clients on a variety of topics including deal structuring and negotiation, financial reporting research, and the design and performance of due diligence procedures. With extensive skills in auditing, mergers and acquisitions and general business consulting, Ramsauer also has a comprehensive understanding of the government contracting market and Federal Acquisition Regulations and works closely with his GovCon clients."
"Victor has been a part of the LevitZacks team for 35 years, and all of us at the firm are thrilled he'll be at the helm, continuing to foster an exceptional culture of open communication, mutual respect and a realistic work-life balance," said Cristanne Leitner, vice president-shareholder-tax director.
The company, which is celebrating its 55th anniversary this year, delivers tax, accounting and business advisory services on a wide range of business issues.