BIOTECH: COMPANY FOCUSED ON MITOCHONDRIA HEALTH, RAISES $85M ROUND
Epirium to Take on Muscle Diseases, Aging
Sunday, January 12, 2020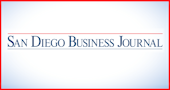 Biotechs routinely highlight work that could lead to life-changing cures. Even by those standards, Epirium Bio's mission sounds lofty.
The San Diego biotech aims to treat rare muscle disorders — and one day even slow or reverse diseases that largely stem from growing old. Think heart disease or Parkinson's.
Boosting the ambitious goal, Epirium recently secured an $85 million Series A round, amid greater investment in muscle therapies.
Aging and muscular diseases share a commonality: the loss of mitochondria, or cells' energy system. The company claims it discovered a hormone pathway to combat mitochondria depletion.
"Almost all so-called diseases of aging, such as Alzheimer's, Parkinson's, heart failure and kidney failure, are in fact diseases in which mitochondria are lost in particular organs," said George Schreiner, the company's chief scientific officer.
Epirium's origins can be traced to research from Schreiner and Sundeep Dugar, the company's chief technology officer, and UC San Diego collaborators.
They were looking into a molecule called epicatechin, which is found in dark chocolate, berries and other foods linked to heart health. The researchers realized that epicatechin mimics a natural healing process in the body, one that's central to mitochondria development.
Hormone Pathway Discovery
In search of what drives that process, Epirium honed in on the hormone pathway, which Epirium says will be identified in a soon-to-be published scientific paper.
"So we were not only involved in one of the most fundamental mechanisms of biology that one could imagine, but we also had stumbled into something that had never been discovered or studied," said Schreiner.
It was 2012 by that point. Demonstrating this new type of biology and convincing skeptical investors took time, the company said.
ARCH Venture Partners and The Longevity Fund, two investors that have expressed a desire to tame or cure diseases associated with aging, took part in the Series A round.
Epirium isn't the only anti-aging company to attract attention.
Others 'Anti-Aging' Cos.
Locally, Samumed emerged in 2016 with a mission of regenerating hair, skin and joints. It has raised more than $650 million since 2013.
Boston-based Life Biosciences last year hauled in a $50 million Series B round to continue research into therapeutics that combat age-related decline.
Despite the race for greater longevity heating up, Epirium for now is keeping its attention on three muscle-weakening diseases: Becker muscular dystrophy, Friedreich's ataxia and Duchenne muscular dystrophy. The latter two can be fatal.
In proof-of-concept studies with 110 patients who took the company's pill, results included improved muscle and heart function, and the treatment appeared safe, according to Schreiner, who declined to elaborate because the results haven't been published yet. As a caveat, the company still has a long ways to go in clinical testing.
Later this year, the company's lead drug will start a clinical trial in Becker muscular dystrophy.
In 2018, companies looking to treat muscle diseases brought in a record $512.08 million in venture capital, nearly double the prior year's total, according to VentureSource, a database from Dow Jones tracking investment.

In the first quarter of 2019, such companies raised $329.57 million. But Epirium's plan of attack separates it from gene therapies that have been cast as the future of life-threatening muscle diseases.
The U.S. Food and Drug Administration last year approved zolgensma, the first gene therapy for a type of spinal muscular atrophy known for killing infants before their second birthday. It's caused by a gene defect.
Treating a Broader Swath
Schreiner said because Epirium is targeting mitochondria loss, the company has the potential to treat a broader swath of muscular dystrophy patients, possibly either as a standalone treatment or in combination with gene therapies.
"No mutation accounts for more than roughly 10% of the patients carrying that diagnosis," Schreiner said. "So if you are confining yourself to a gene therapy for muscular dystrophy, we're not saying that's not going to be effective, but it's not going to be applicable to anything other than that specific subset of those diseases."
Pill Form
As another form of differentiation, Schreiner said Epirium aims to deliver its therapies in pill form for the sake of convenience rather than muscle injection.
Epirium was founded as Cardero Therapeutics, but changed its name as the company scaled up its ambitions.
Propelling the company, Schreiner said investors woke up to the possibility of fighting mitochondria depletion. Exercise and fasting are the only ways to do so currently.
"We got investment on a scale that we had not anticipated even two years ago," he said.
Hiring Plans
With the Series A round, the 10-employee company plans to have 50 employees a year from now.
Besides ARCH Venture Partners and The Longevity Fund, the other investors in the financing were Longitude Capital, Bluebird Ventures, Adams Street Partners and Vertex Ventures HC.
"I think the way that most of our investors model this is pretty data-driven," CEO Russell Cox said. "And they realized that the investment was worth it just based on the data that we had on Becker muscular dystrophy, as well as Friedreich's ataxia, but they also realized the opportunity beyond that."
The company points to the long resumes of its executives, including Cox, who was the former CEO of Vital Therapies and before that the COO of Jazz Pharmaceuticals.