DESIGN: FIGURE SKATING, TRAVELS AND PASSION SHOW IN HER WORKS
Designer Works From Experiences
Thursday, January 9, 2020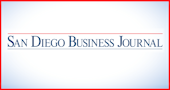 As a child growing up in the northern Illinois city of Rockford, Jules Wilson was a competitive figure skater from the age of 4 or 5.
"By 7 or 8, I was skating six days a week, four or five days a week," Wilson said. "It gave me my passion and my focus, my drive, my desire to do and achieve things and follow my dreams."
Wilson did just that about 15 years ago, when she decided to form Jules Wilson Design Studio.
After living in Italy for two years and studying at Lorenzo Di Medici in Florence, Italy, earning a bachelor's degree in fine arts from the Design Institute of San Diego, and working for others, Wilson said she was ready.
"There was nowhere in San Diego where I wanted to work," Wilson said. "I wanted to form a studio that was very collaborative and really passionate about what they're doing. I like working with high passion, low ego people, which is not always easy to find in this industry."
That first year, Wilson said her company earned about $250,000.
About $19M in Revenue
By the end of 2019 and with a staff of 13, Wilson was expecting to finish 2019 with annual revenue of about $19 million.
She has worked on everything from single family homes to the $12 million restoration and construction of the new Plunge swimming pool and Fit gym at Belmont Park at Mission Beach.
"That's one we're really proud of because we feel the experience we delivered is very special and unique," Wilson said. "People seem very happy when they're there."
Her ongoing projects include planning for further redevelopment of Belmont Park, an area she frequented when she lived nearby when she was in her 20is.
Covering a Huge Demographic
"We are catering to a combination of locals and tourists from a very young age to a very old age. Usually, you're designing for a much more defined demographic."
Wilson wants to bring in more adult oriented rides and food offerings while at the same time making it more family friendly.
"We're really trying to make it a destination people want to drive to," Wilson said. "My focus is fun delivery."
Her clients said Wilson brings a different perspective to her work and is quick to figure out what they want and what works best in a design.
"She's so talented, she's so creative, she gets it," said Scott Lutwak, founder and CO-CEO of Fit Athletic Club, who has worked with Wilson on the Plunge and numerous other projects over for the past 14 years. "Not only does she get it the first time, but she gets it before people actually say it."
When Lutwak told Wilson that he wanted interior windows looking in on a workout room at a downtown Fit gym, Wilson designed a glass window that also had a glass bench as part of the window.
"She took exactly what I wanted and took it to another level," Lutwak said. "Instead of just standing there and looking through a glass window, you're sitting in it. I've never seen anything like it."
Wilson also is designing a combination bakery and restaurant Lutwak is opening downtown in January that he's named simply Bakery.
For that one, Wilson covered an interior wall with cardboard tubes to give it an added dimension.
"It's a great example of a design people are going to walk in and notice," Lutwak said.
Timothy Kent, a partner in the architectural firm Pappageorge Haymes Partners based in Chicago, credits Wilson for being "pretty nimble."
"If there's a budget problem, she can find ways to economize and still create something that's really amazing and perfect for the project," Kent said.
"Working with Jules is different from working with a lot of other interior designers. She's much more in tune with the architectural side of it. She creates spaces and moods that are always appropriate to the building, to the building they're going into."
In San Diego, Kent worked with Wilson on EV Apartments in East Village.
"There are interesting graphics and interesting colors to make something as mundane as a corridor come alive and be a positive experience. Even down in the parking garage, another utilitarian space that can be very boring, there's some fun graphics and something to make it very engaging and come alive," Kent said. "She brings a real sophistication in her design that comes from perhaps being more worldly than other designers."
Love of History
Wilson attributes at least part of that to the time she spent in Italy and her love of history.
"I think it influenced how I am as a person and my sensitivity to design and detail. Its influence is profound in all that I do," Wilson said, adding that she tries to travel back to Italy at least once a year.
She said she found Italy to be a country "that shared my common interests in aesthetics, history, arts and architecture, and culinary designs."
"I love that the culture there is focused on life and beauty. It's like being good at life, seeing the pleasure of life, is a prioritized and admirable way of being. That beauty, pride and craftsmanship are the signature of the Italian way. It just resonated with me on every level," Wilson said. "Of course, I love the shoes and fashion also."
She is the first in her family to pursue a formal career with an artistic bent.
"My grandmother studied art and architectural history as a hobby," Wilson said, adding that her own interest in buildings goes back to her childhood.
Born to Build
"At a very young age, I enjoyed playing with my Lego set and I liked designing," Wilson said.
Once she settled on designing as career, Wilson said "I wanted to be the best designer with my own firm designing on all these good plans. I think I had a very skewed sense of how long it would take to achieve my goal," she said.
Away from work, Wilson said cooking is her "primary creative passion."
She and her significant other, designer Paul Basile, are remodeling the kitchen in their mid-century home that was designed by San Diego architect Frederick Liebhardt, who apprenticed with Frank Lloyd Wright.
Along with new appliances, Wilson is adding a Natufia indoor garden that grows plants hydroponically.
Looking back on her career so far, Wilson said "I would say the two things in life I am most grateful for, outside of my family and friends are very much my experience as a figure skater and my experience living in Italy for two years."