NUPLAZID NETS $94.6 MILLION IN Q3 SALES
Psychosis Drug Also Shows Promise in Dementia Cases
Wednesday, January 8, 2020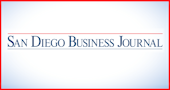 A drug from Acadia Pharmaceuticals made dementia patients nearly three times less likely to relapse into psychosis compared with a placebo in a late-stage clinical trial, the company reported last month.
The 392-person study supports Acadia's attempt to widen the use of nuplazid, its drug that's already approved to treat hallucinations and delusions caused by Parkinson's disease.
In September, Acadia stopped the phase 3 clinical trial early after nuplazid demonstrated significant benefits. The San Diego company in December released data showing a 65% relapse reduction in dementia patients who experience psychosis.

Seeking FDA's OK
Serge Stankovic, Acadia's president, said the company would meet with the U.S. Food and Drug Administration in the first half of 2020 in hopes of obtaining approval for nuplazid in dementia-related psychosis.
Analyst Cory Kasimov with J.P. Morgan believes the company will get the OK. In a December research note, he said results of the clinical trial appear impressive — and significantly no new safety concerns over nuplazid emerged.
Acadia reported that 4.8% of patients on nuplazid had serious side effects, versus 3.6% of patients in the placebo group.
Two deaths were reported during the clinical trial, but investigators said neither was related to the drug, according to Acadia.
Psychotic Symptoms
Acadia said some 30% of dementia patients, or 2.4 million people in the U.S., experience psychosis-fueled delusions and hallucinations.
"Reducing the risk of relapse of psychotic symptoms by this magnitude is an important and meaningful outcome as these are serious events which could lead to poor patient outcomes and a significant increase in caregiver burden and distress," said Jeffrey Cummings, director emeritus of Cleveland Clinic Lou Ruvo Center for Brain Health in Las Vegas, in a statement.
The results mark a rebound for Acadia, which this summer reported disappointing clinical trial results in another indication. Nuplazid failed to improve the overall symptoms of schizophrenia in the final stage of clinical trials.
Nuplazid is also undergoing clinical testing in major depressive disorder and schizophrenia marked by predominantly "negative symptoms."
Despite ups and downs, overall Acadia has been on the upswing. In 2018, the FDA reaffirmed nuplazid for Parkinson's psychosis, after a rare reexamination of the drug over safety concerns.
The FDA said the drug's benefits outweighed its risks, which are outlined through a "black box" warning.
Nuplazid netted $94.6 million in third quarter sales, a 62% year-over-year increase, according to results in October. With Acadia running several clinical trials, the company reported a $42 million net loss during the quarter, compared with a $62.1 million net loss in the prior year period.
On account of rising nuplazid sales and the recent clinical trial results, Acadia's stock more than doubled from year's beginning, closing at $43.16 a share on Dec. 30.