RETAIL: COMPANY FINDS COMPETITION, INSPIRATION IN SAN DIEGO MARKET
Food Company Forecasts $9 Million in 2020 Revenue
Wednesday, January 8, 2020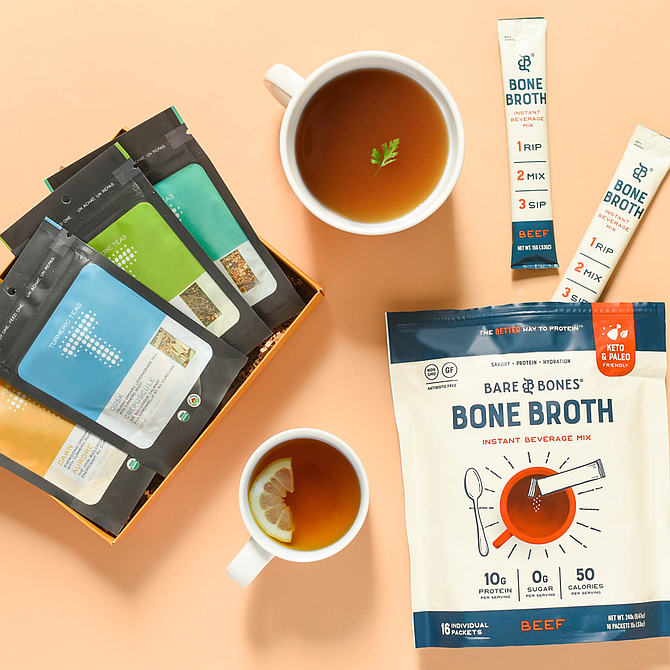 In July, Business Insider voted San Diego as one of the top 15 cities in the U.S. for startups. In October, the city came in at No. 7 on Wallet Hub's "Best Foodie Cities in America" list.
These are just some of the reasons Barebones Ventures LLC, or Bare Bones, a company that makes protein-infused products including ready-to-eat bone broth and instant bone broth beverage mixes, returned to S.D. in 2017.
Bare Bones, with headquarters in Grantville and three employees, was founded in San Diego in 2013 by Katherine Harvey and husband Ryan Harvey. In 2015, the two moved the company to Medford, Oregon, in search of an affordable commercial kitchen to grow the operation. But in 2017, inspired by the growth in the local S.D. food market, the Harveys brought their company, with $3 million in revenue in 2019 and forecast to reach $9 million in 2020, back to their hometown.
San Diego Inspirations
"San Diego has a lot of great health-food brands that we have always looked up to and/or grown up with: Perfect Bar, Bitchin' Sauce, Suja Juice, Mamma Chia, Arctic Zero, Once Upon a Farm," said Katherine Harvey. "It's an exciting place to be growing a food brand."
Initially self-funded by Ryan Harvey, who took a few hundred dollars out of his own money to purchase the first supplies, Bare Bones was started as an e-commerce storefront, selling exclusively online. Ryan Harvey came up with the idea to make a nutrient-dense, chef-quality bone broth in 2013, while working as a cook in fine dining in La Jolla, said Katherine Harvey. She said he often asked himself why consumers didn't have access to quality stock, instead of the stocks and broths available for purchase in supermarkets, which were mostly watery and sodium heavy. So, he decided to make a nutritious, restaurant-quality stock that could be purchased at local stores for everyone to enjoy.
"The vision for Bare Bones has always been to provide people with better versions of the foods they already enjoy, and what better place to start with than the foundation of all cooking: stock," said Katherine Harvey. "No other food offers the variety of opportunities to infuse your cooking with more collagen, minerals and other nutrients."
Miro Copic, marketing professor at San Diego State University, said what sets bone broth apart from the declining soup category is all of its health benefit claims.
"You always read how, if you are sick, you drink chicken soup because it is restorative," he said. "With bone broth, there is a much bigger list of claims they talk about, from helping with joints and arthritis, inflammation of the intestines, helping improve sleep, lose weight more efficiently. There's also collagen and a host of other vitamins and minerals in bone broth, as well."
Copic adds that the portability and various options in which the bone broth is available these days, from liquid to powder to gelatin and even in K-cups, makes it that much more appealing to both baby boomers and millennials, who are both searching for natural ways to stay healthy. Targeting diet fads like Paleo and Keto, as well as its national presence, is crucial for the continued growth of Bare Bones, he said.
Copic does have some concerns, though, like taste.
"It has to deliver on taste profile," he said, adding that because there is no solid scientific study that validates the bone broth claims, he also wonders if the hearsay will be enough to make its popularity a long-term trend.
Knowledgeable in making stock from his time in professional kitchens, Ryan Harvey initially created a "very basic stock," said Katherine Harvey, using a simple recipe that he tinkered with almost weekly until the flavor was just right. This took the form of dozens of small iterations, she said, over the first couple of years when they were still making broth in their home. And then, when the company began working with co-manufacturers, it took roughly a year to finalize the recipe, Katherine Harvey said.
Catching a Wave of Popularity
After years of struggling to keep up with online demand, things really began to take off in 2014, according to Katherine Harvey, when celebrity chef Marco Canora started selling bone broth in New York City's East Village. She said many people hadn't heard of bone broth before then, but, due to his mass introduction, it became a national sensation. Bare Bones was in the right place at the right time, she said, as one of the only two companies making and shipping bone broth nationwide at the time.
It was in early 2016 that Bare Bones landed its first retail store contract with Ashland Food Co-Op in Ashland, Ore. Katherine Harvey said she and her husband would deliver orders of a few cases at a time in their Subaru. Shortly after, the company got a deal with Wegmans, a supermarket chain headquartered in Rochester, New York, said Katherine Harvey, which landed Bare Bones in 70 stores later that year. Katherine Harvey said it was around the same time that the company started working with its first contract manufacturer to increase production.
Dehydrated Mix
Then, in 2018, after five years of selling only liquid stock, the Harveys turned to innovation and dehydrated their bone broth to introduce the company's first powdered option.
"We had been making and selling liquid for five years, constantly improving and optimizing it to make it more convenient, accessible and affordable for our consumers without compromising on quality," said Katherine Harvey. "We realized eventually that despite our best efforts, we would never be able to sell a liquid bone broth that was truly convenient for every lifestyle and affordable enough for most people to use on a regular basis. The costs of transporting liquid are just so high."
The dehydration process is a trade secret, said Katherine Harvey, offering that it cost substantially less than liquid broth. "Our instant bone broths retail at about $2.79/serving, compared with our liquid bone broths, which retail for $5/serving," she said.
Ships From 3 Warehouses
Katherine Harvey said Bare Bones sources from all over the world and contracts with manufactures in multiple locations across the country, from the Northeast to Southern California. Labeling and packaging takes place in multiple locations as well, she said, and the company currently ships from three warehouses: one in Las Vegas, one in Baltimore, Md., and one in Romeoville, Ill. Bare Bones ships within the United States.
Currently, Bare Bones has products in about 800 stores across the country, said Katherine Harvey, with its biggest retail partners being Costco, Whole Foods Market, Wegmans and H-E-B in Texas. The company launched its liquid broth in Whole Foods earlier this year, said Katherine Harvey, and currently has four flavors of liquid bone broth options (beef, chicken, rosemary lemon chicken and turkey) and one flavor of instant bone broth: beef. Chicken is coming soon, she said.
Katherine Harvey said while she does have bone broth competition, including Austin-based Kettle & Fire and local ones like Bonafide Provisions and LonoLife — the latter which also makes dehydrated broth — competition is friendly among most of the companies.
Play Your Own Game
"Of course, it can be competitive, but Ryan and I view our business like a game of golf: play your own game," she said. "There's plenty of opportunity out there for all of us to do very well."
In 2020, Bare Bones has a couple of new products launching, as early as February, said Katherine Harvey and hopes to expand into some new retail stores, primarily in the natural-specialty channel. And, although Bare Bones is yet to be in any San Diego-headquartered chains, like Jimbo's or Barons Market, Katherine Harvey said this year, the company will keep trying for local placement.