TECH: CO. SCRAPS PLANNED $1.2 BILLION PACBIO ACQUISITION
Regulatory Hurdle Too High for Illumina
Sunday, January 5, 2020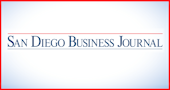 San Diego's Illumina will no longer buy Pacific Biosciences for $1.2 billion, a decision the companies mutually reached following antitrust action on both sides of the pond.
Pacific Biosciences, or PacBio, had the potential to add another dimension to Illumina's DNA-reading technology that's the backbone of everything from ancestry tests to prenatal screening.
But last month, the U.S. Federal Trade Commission moved to block the transaction, and the U.K.'s Competition and Markets Authority in October said it might do the same.
$98M Breakup Fee
Per a Jan. 2 announcement, Illumina will pay a $98 million break-up fee to PacBio. But PacBio must repay the money if it strikes an agreement to be acquired by Sept. 30 and consummates the deal within two years.

Illumina climbed to the top of the DNA sequencing market with short-read sequencing that amplifies snippets of DNA. PacBio can decode lengthier chunks of DNA, a niche that's preferable when examining microbial genomes, for instance.
Missed Opportunity
"We are disappointed that our customers and other stakeholders will not realize the powerful advantages of integrating the sequencing capabilities of our two companies," said Michael Hunkapiller, CEO of PacBio, in a joint statement.
Illumina CEO Francis deSouza said the company would, "continue to look for ways to increase the impact and benefit of sequencing technologies for researchers, clinicians, and, most importantly, patients."
The companies mutually agreed to drop the deal given what has already been a lengthy regulatory process and uncertainty over how it would turn out, they said. The acquisition, announced in November 2018, was originally supposed to close last summer.
In an administrative complaint, the FTC alleged that Illumina is seeking to shore up its monopoly in DNA sequencing by eliminating PacBio as a competitor.
The complaint set the course for a formal hearing before an administrative law judge — but not until August. The agency also said if need be it would seek a temporary restraining order and a preliminary injunction in federal court.
PacBio in recent years has increased the accuracy and lowered the cost of its sequencing systems, making the company a "closer alternative to Illumina than ever before," the complaint said.
PacBio — headquartered in Menl o Park — is one of three other companies that manufactures and sells next-generation sequencing systems, according to the FTC.
Stifling Competition
"This deal threatened to let a monopolist extinguish nascent competition in a growing health care market: next-generation DNA sequencing," said Gail Levine, deputy director of the FTC's bureau of competition, in a statement following the deal being scrapped.
Observers viewed the FTC's move as the death knell of the tie-up. At that time, analyst Puneet Souda with SVB Leerink said he believed the unraveling would have limited impact on Illumina's growth trajectory, both in the short term and long term.
Fast-growing markets like liquid biopsy, Souda said, depend on Illumina's short-read abilities.

"Although the complementary nature and possible new product introductions from the combined entity would be compelling (combined data and insights into parts of genomes not accessible), short-read sequencing will continue to be the main driver of revenue growth for [Illumina]," he said in a search note.
Beyond the FTC, the U.K.'s Competition and Markets Authority, or CMA, in preliminary October findings said it was inclined to block the deal to preserve competition in the DNA sequencing market.
In hopes of swaying CMA, Illumina in November said if the deal gets the green light it would grant royalty-free licenses to third parties developing long-read sequencing. The proposal would remove a barrier to entry, Illumina said.
Additional Costs to Illumina
Besides the potential break-up fee, Illumina in a regulatory filing said it would make good on its promise to pay PacBio a total of $34 million by March. Illumina agreed to do so last year to extend the transaction deadline and help fund PacBio's operations.
Similar to the break-up fee, PacBio would have to pay back the $34 million if within two years it's acquired or raises $100 million in equity or debt financing.
PacBio has struggled to commercialize its technology, while Illumina was positioned to make long-read sequencing financially viable, analysts said. n