STARTUPS: BRINGS EXPERIENCE FROM LOS ANGELES MARKET
Startup San Diego Hires New Executive Director
Wednesday, January 1, 2020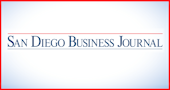 After six months of searching to fill their leadership role, Startup San Diego hired its second executive director, Alexa-Rae Navarro.
Navarro, who spent her last eight years contributing to the growth of Los Angeles's startup ecosystem will transition to Startup San Diego to help scale the organization into new heights.
Navarro served as the senior managing director of the Bixel Exchange, a startup launch program she developed from the ground up in congruence with the Los Angeles Area Chamber of Commerce. The program now serves over 250 entrepreneurs and is the largest entrepreneurship program in the Los Angeles region.
Founded in 2014, Startup San Diego is a local non-profit that brings together thousands of local entrepreneurs and business professionals to host the city's biggest event each year.
Best known for their event, Startup Week which started out with a few hundred people looking to highlight the region's relatively young startup ecosystem, has matured into multiple-day conferences with thousands of attendees citywide.
"The initial purpose for Startup San Diego was to create a grassroots conference for entrepreneurs  —  by entrepreneurs," Startup San Diego Chairman Neal Bloom said.
The organization's anchor event, Startup Week is an annual gathering that hosts speaker panels, breakout sessions, educational workshops, and provides a platform for people to learn about the San Diego tech and startup landscape firsthand.
Startup San Diego has been running almost solely on volunteers since June due to the leaving of Jarrod Russell, former executive director.

Seeking someone whose background experience stems from both the startup community and the non-profit sector, they hired executive search firm Blair Search Partners. The board's search committee received over 900 resumes for the position before deciding to bring Navarro on board.
Navarro was the perfect candidate for the role, Bloom said.
"She was exactly what we were looking for. She saw an ecosystem that's a bit ahead of us and now gets to run that playbook here in San Diego which we are all really excited about."
Navarro said before creating her grandiose plan, she will work to better understand the unique challenges and intricacies of the local startup scene.
"I want to better understand what gaps other organizations are filling and how Startup San Diego can fill the gaps that remain. Our vision will be built through collaboration with the team and our board."
Navarro, who identifies as a Lantix, shared she is most passionate about building an inclusive ecosystem that benefits all. In particular, finding new ways to get women, African Americans, Latinx, veterans, and LGBTQ founders more involved.
When asked about the San Diego startup scene's potential compared to Silicon Valley and Los Angeles, she said San Diego has the opportunity for an unparalleled impact.
"In terms of maturity, San Diego is only four to five years behind Los Angeles. Which will provide us the rare ability and power to make the ecosystem what we want it to be."