Statue Co. Taps Tech And Artistic Sourcing to Reach Right Customers
Thursday, February 27, 2020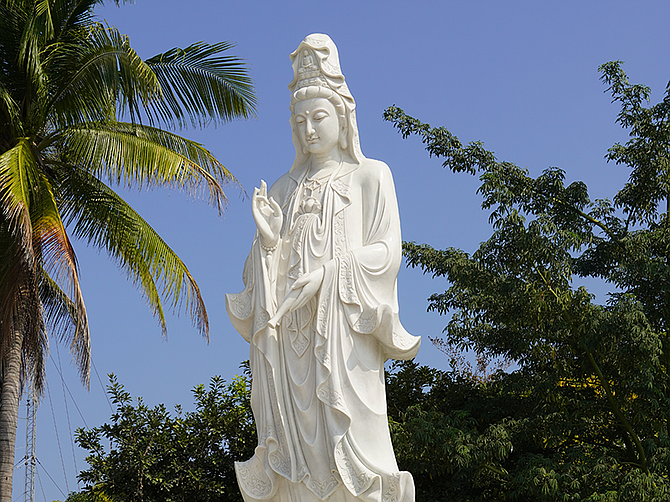 Its first year in business, Lotus Sculpture LLC, an Oceanside-based company that sells handcrafted Hindu and Buddhist statues directly from the artists who make them, had a revenue of $60,000. With growth of about 30% annually, the independent business, founded in 2001, reached $1.6 million in revenue in 2019, according to the company.
For Kyle Tortora, the founder of Lotus Sculpture, the secret sauce to his business has been SEO, search engine optimization, and bypassing third party vendors like Amazon — cutting out fees and commissions — by selling directly to consumers through his own website, lotussculpture.com.
SEO
"The driving force for my success through the years has been natural SEO," said Tortora, who taught himself coding and SEO to get more eyeballs on his site, which he dubs a global marketplace for artist to sell their statues in the United States while increasing exposure to Eastern religious art. "In the first days, I was getting 10-20 people to visit Lotus Sculpture. Now I get between 2,500 (and) 4,000 people daily… If someone types in 'Buddha statues', I will be on that first page of Google and that has been a huge catalyst to my success over the years."
On average, Lotus Sculpture sells about four one of-a-kind handmade statues a day, said Tortora, which are sourced directly from roughly 250 artisans he works with in places like Vietnam, Thailand, Indonesia, India, Cambodia, China, Nepal and Bangladesh. Some of the statues he carries are bronze Buddhist and Hindu statues from Bangladesh; brass Buddha statues from Thailand; Buddhist marble and wood from Vietnam; Hindu brass, marble, wood, bronze and granite statues from India; bronze and white marble from China; and Buddhist wood and lava stone and Hindu brass from Indonesia. Artisans set their own prices and are paid on a statue by statue basis, he said.
Offering Wide Variety
Each year, once he purchases statues from abroad, Lotus Sculpture imports around 20, 40-foot containers, which he arranges through shipping agents, said Tortora. Depending on where they come from, they can contain anywhere from, say, 50 stone statues from Indonesia to 2,500 wooden statues from South India, he said. Its statues range in price from $19 for a brass Buddha head that is three inches tall to $70,000 for a 20-foot marble Kwan Yin statue. The price is based on how long the artist took to carve it, the materials used and the price to get it from Asia to the 5,000 square foot Oceanside warehouse, Tortora said. Lotus Sculpture sells wholesale to some museums around the country as well as temple gift shops, he said, but that only comprises about 5% of the business.
When the statues arrive at the port, Tortora uses his customs broker to get the container delivered to the warehouse, he said. The statues are then unpacked, using a forklift to get the larger statues out, and photographed by Tortora himself. He uses part-time employees who work remotely in India to Photoshop the pictures that Tortora then posts on his website with a brief description. Tortora also handles all customer service for Lotus Sculpture.
The Logistics
Once a statue is sold, Mark Battle, Tortora's assistant and one of two employees at the company, gets an email to pack it. For the smaller statues, under 150 pounds, Lotus Sculpture uses United Parcel Service for shipping the same day the order is placed, he said. And for the larger stone garden statues, they are crated directly on a pallet with wood braces built around the statue to hold it in place, Tortora said, and shipped using any of about 10 freight carriers. All statues have a protective mold foam that is added with the use of a packing machine and contours to the shape of the statues within the box, he said, with freight orders taking a day or two due to the time it takes to package it correctly.
"Generally, my customers are spirited-minded individuals who are looking to bring a Ganesha or a Buddha statue into their lives," said Tortora. "My customers are generally savvy and understand what goes into the making of each piece. Thus, they appreciate the sculpture for how it was made. Just about every day, someone asks me to thank the artist for making the statue that now graces their home. My customers want something special and authentic that they can show their friends and tell a story of where they got it from."
Tortora, who grew up in Greenwich, Connecticut, and got a degree in religion from the University of Richmond in Virginia, knew he wanted his travels to inspire his professional work after spending three years in Asia and, later, after two years selling websites for a New York-based company, four months in India. He said he had an epiphany when he set his eyes on a bronze Lord Shiva Nataraja statue in South India for the first time. Wanting to find out exactly where the statues were made and by whom, Tortora ended up in the village of Swamimalai, where he said he saw how artists' lives were being affected by the lack of demand for their handmade bronze sculptures.
"I knew immediately that this was my calling," he said, "to build a website creating a new global marketplace for these artists to sell their statues outside of India
to help pump new life into this struggling industry while simultaneously increasing Western exposure to the beauty of Eastern religious art."
Family Funding
When he returned home, he asked his father for a loan of $35,000, which he used to hop back on a plane to India, purchase $20,000 worth of new statues, ship them back to the U.S. ($6,000) and to build a website, he said. Tortora paid the loan back after the first year.
Recently, Tortora added a mezzanine to his warehouse, which gives him an additional 2,000 feet of storage space, he said, while he actively looks for another warehouse that would afford him the opportunity to bring even larger statues. He is also looking to hire one more person to help take a little of the load off himself, he said.
'Statue Chooses You'
While other sites, like Amazon and Exotic India also sell statues, Tortora said no one else sells handmade contemporary hand carved statues like Lotus Sculpture.
"Amazon has taken over e-commerce… however, Amazon lacks personality," he said. "I have connections with each and every artist and know who carved every statue in my showroom. … For me to sell any statue, a connection has to be made between the customer and the statue. I always say to our customers, 'the statue chooses you, you don't choose the statue.' Amazon will never be able to replicate this connection. It is personal, between people. Big companies aren't invited to the party."