DTx Takes on Delivery of RNA Meds
Thursday, February 27, 2020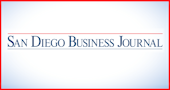 Pharmaceuticals are seizing on a hot area of research that inhibits problematic genes — and DTx Pharma wants to play a vital role.
The San Diego biotech last month closed a $10.6 million Series A round, on the promise of its method to improve on the delivery of RNA medicines.

These therapies are having a moment, thanks to companies like Carlsbad-based Ionis Pharmaceuticals. In Ionis' case, its drugs bind to RNA instead of proteins, allowing the company to reach difficult disease targets.
But RNA medicines present a drawback.
"Historically, RNA therapeutics have suffered from a delivery challenge," said DTx's CEO and chief scientific officer, Arthur Suckow.
The problem is twofold: It's difficult to get RNA therapeutics into cells, and once there, the kidney rapidly clears them.
Using Fatty Acids
DTx Pharma uses fatty acids to carry the genetic material into the cells. The cell membranes have receptors for fatty acids, which can bring them in with the RNA in tow.
The process also involves a blood protein called albumin, which positions fatty acids for cell uptake. Bottom line: DTx says its proprietary technology gets past a natural defense.
"The body has defense mechanisms to stop invading RNAs from getting into your cells," Suckow said.
He worked on fatty acid receptors at Janssen, Johnson and Johnson's pharmaceutical arm, as well as for AstraZeneca, and then joined Regulus Therapeutics. There, he encountered the delivery barrier and sought a new approach.
"I thought there's a way you could leverage fatty acids to solve this problem," he said. "We've been off to the races ever since."
Suckow — along with former colleagues at Regulus, John Grundy and Adam Pavlicek — founded the company in 2017. It's located at Johnson & Johnson's JLABs, a life science incubator in San Diego that supports early-stage biotechs.
Springboard Accelerator
In addition, DTx Pharma is a graduate of Connect's Springboard Accelerator program, its flagship mentoring program for technology and life science companies in San Diego.
"This is a story of San Diego's ecosystem," Suckow said.
This year, DTx Pharma hopes to ink its first deals to improve on others' RNA drugs.
It also has internal programs in the preclinical stage. They're aimed at eye, muscular and nervous system disorders, backed by three grants totaling $855,000 from the National Institutes of Health.
Investors
Among its investors: pharmaceutical giant Eli Lilly, which has invested in several RNA-based technologies. Other investors include FBV Fund 1 — which led the recent round — Viva Biotech, Tech Coast Angels San Diego and ExSight Ventures.
"Having Lilly join the round provided welcome external validation, and has brought significant additional capital and expertise into the equation," said Jeff Friedman, DTx's chief operating officer and managing partner of FBV Fund, in a statement.
The company has seven employees. Plans call for 12 to 15 employees by year's end.