Solar Startup Opens Carlsbad Office, Raises $2.5M in Series A
Monday, February 24, 2020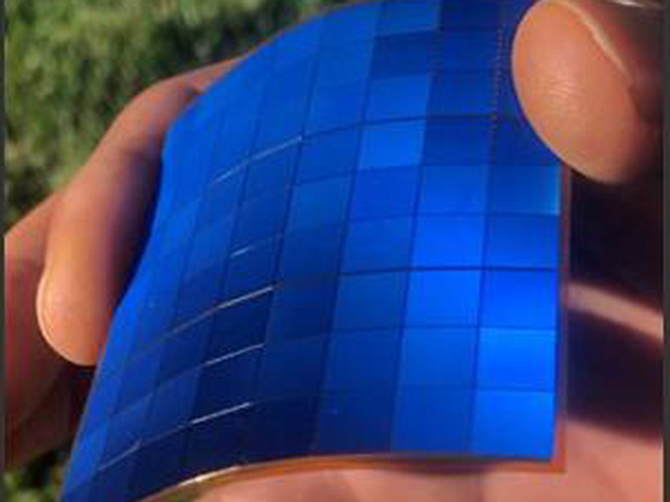 MPower Technology, an Albuquerque-based solar energy startup has opened a new office in Carlsbad as it works to commercialize its technology. The company said it will primarily focus on expansion of its executive team, landing contracts and establishing its San Diego presence.
The move came shortly after the startup closed a $2.5 million Series A funding round, the round was led by Santa Fe private equity firm Sun Mountain Capital.
With the new funding, mPower will continue working with third-party engineering companies to produce samples and perform testing, as well as cover salary costs. The company said the runway of funding will last well into 2021.
Bendable Solar Cells
Founded in 2015, the solar startup creates lightweight, bendable solar cells that officials say are superior to those built out of traditional materials.
According to the company, its technology, DragonSCALES has the advantage of reduced weight and lower power generation cost compared with other solar cells. In addition, DragonSCALEs overcome the low-voltage limitations of today's rigid solar cells and are resilient, shade-tolerant, reliable and easily integrated.
In particular, the startup aims to produce its solar cells for the aerospace industry, in addition to the internet of things (IoT) and roofing industries.
Overcoming Challenges
President and CEO of mPower Technology, Kevin Hell said there are many traditional processes in place that prevent advancement and change, especially in the space industry. Despite the challenge, mPower said it's seeing early success in introducing its innovative solution.
"It's hard to break into a new space market with technology in general, but over time it's easier and its becoming increasingly commercialized," Hell said, "We're getting a lot of early success but it's a challenging market."
Early last year, Hell was appointed president and CEO as the company transitioned into its commercialization phase. Initially founded by Murat Okandan, who now serves as chief technology officer. To date, the company has over 20 patents on their technology, with 17 of them licensed from the Sandia National Laboratories.
US Army Contract
In 2019, mPower Technology was awarded a Phase II Small Business Innovation Research (SBIR) contract by the US Army Combat Capabilities Development Command Soldier Center.
The partnership seeks to demonstrate how textiles built with DragonSCALES technology will meet the Soldier Portable and Expeditionary Maneuver remote power requirement.
Business Model
The primary way mPower brings in revenue is by selling its modules to major space prime contractors. The company said it's also looking at licensing models in the case of terrestrial markets for potential market opportunities.
Currently the company employs 12, and expects to double that amount within the upcoming year. It's engineering, R&D and tech development staff will remain in Albuquerque, according to the company.