Rising Above the Threat Levels
Sunday, February 23, 2020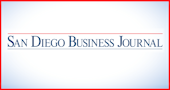 Being secure these days takes more than a doorbell camera and a dog with an attitude problem. Today, one needs to attend to cybersecurity threats at an individual level and at a business level.
The Cyber Center of Excellence (CCOE), a San Diego-based nonprofit organization announced the launch of a 10 part podcast for IHeartRadio aimed at "educating consumers and businesses on the cyber threat landscape, protection and risk management strategies, innovations and growing workforce needs, the CCOE said.
The series taps the talent of FBI, ESET, GoSecure, EY, Lockton, Cooley, Sentek Global, U.S. Naval Information Warfare Systems Command (NAVWAR), FICO, Qualcomm, Sharp HealthCare, Teradata, Booz Allen Hamilton, and more. The series will run through July 2020.
The first two episodes will have the FBI discussing the threat landscape, counterintelligence and resources for citizens and companies, as well as CCOE and Cyber Operations, California State Guard discussing California's cyber economy.
…
If you're searchin' for your "lost shaker of salt," you can try the Gaslamp in 2021.
The Margaritaville Hotel San Diego Gaslamp Quarter is on its way.
The Pebblebrook Hotel Trust and Margaritaville Enterprises LLC announced the 235 room property to be located on what is now the Solamar Hotel at 435 Sixth Ave.
According to Pebblebrook, "following extensive renovations and a full conversion of the existing hotel, estimated at approximately $20 million, the Margaritaville Hotel San Diego Gaslamp Quarter will feature spaces reflecting the Margaritaville state of mind."
Davidson Hotels & Resorts, the current management company for Solamar, will manage the new hotel, Pebblebrook said.
The Gaslamp property will pair with Margaritaville Island Resort San Diego which was announced last year for the Mission Bay's Paradise Point Resort & Spa location.