Upscale Lakeside Development Has Neighborhood Charms
Wednesday, February 19, 2020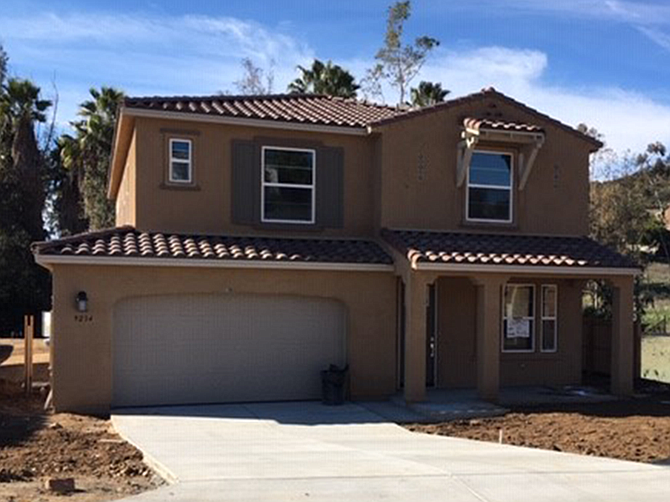 Lakeside is getting something different for a community often seen as one of the few areas in San Diego County with affordable housing for working families — a development of big, high-end homes.
Pebble Creek Cos., Casbri Development and Presidio Residential Capital are collaborating in building Riker Ranch — a community of 20 single-family homes on 10,000 square-foot lots.
"It is a little bit more upscale than what Lakeside might be used to," said David Lother, president and owner of Casbri Development.
"I think that's one of the desirable things about it, people are looking for that in the Lakeside area," Lother said.
The development will provide "much-needed housing in San Diego's East County," said Gary Arnold, principal and co-founder of Pebble Creek Communities.
Commuter Friendly
"The extension of the state Route 52 through Santee to SR-67 (state Route 67) opens up this market to commuters and move-up buyers, among others," Arnold said. "We expect these homes to sell quickly."
Arnold said he liked the Lakeside site partly because he grew up the nearby El Cajon community of Blossom Valley.
"It's located in an existing neighborhood, so it really has the hometown feel," Arnold said.
"It's the perfect infill project. It took an old, dilapidated ranch and created 20 homes that are centrally located and new."
The 6.2-acre site is just off Adlai Road at 9265 Old Farmhouse Road.
The homes in Rikers Ranch range from 2,836 square feet to 3,009 square feet with four or five bedrooms.
Priced from $759,900 to about $785,000, many of the homes come with covered verandas and tandem three-car garages.
RV Parking Space
A special touch added with Lakeside in mind is that 16 of the homes come with space for parking recreational vehicles (RVs) or boats — a nod to the affinity many East County residents have for camping and spending time exploring the outdoors, Arnold said.
Lother said the RV spaces are drawing interest from prospective buyers.
"That's turning out to be a fairly good marketing tool. People seem to like that," Lother said.
There's also room on most of the lots for homeowners to add a granny flat, although they're not included in the homes.
"A lot of what we're seeing is parents moving in with families and we wanted to make sure we had that opportunity as well. We tried to make the lots big enough so if they wanted, one could be added," Arnold said. "They're typically larger lots than what you see in production homes."
The homes are designed in what Arnold described as "somewhat of a ranch or craftsman style."
Livability Over Density
"From the very start, the intent was to keep it a little more open, to keep the country feel to it so we sacrificed density for livability," Arnold said.
About a third of the homes will be single-story, which is fairly uncommon in San Diego where land is so expensive that developers tend to build two-story homes to get more square feet of usable space on every lot.
"The market is really looking for single story today," Arnold said. "With the cost of land, it's almost impossible to create single-story sites."
Another East County project, La Mesa Summit Estates soon to start construction by The Phair Co., also includes a number of single-story homes.
Riker Ranch is being marketed by Bob and Tina Kelly of the La Mesa office of Berkshire Hathaway HomeServices California Properties.
Aside from offering larger and pricier homes, Riker Ranch is unusual in that there are few other new home developments nearby.
"One thing about East County, there aren't a lot of brand new homes," Tina Kelly said.
Lother said the development isn't targeted at any particular demographic.
"A lot of it is local people in the Lakeside area just wanting to move into a bigger house that suits them better on a lot that's bigger," Lother said.
A grand opening of Riker Ranch's first 10 homes is set for Feb. 22.