SPECIAL REPORT: REACHING THE SUMMIT
Tuesday, February 18, 2020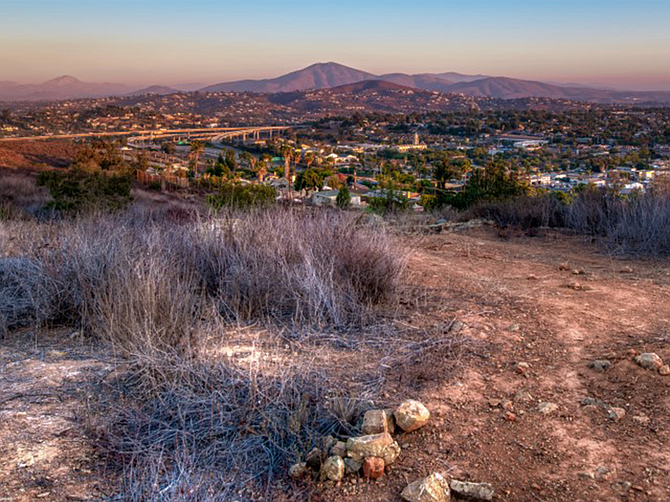 A La Mesa hilltop is being turned into a gated single-family home community by The Phair Co.
Dubbed La Mesa Summit Estates, the 10-acre site at Eastridge Drive and Monte Drive will have 30 single-story homes, each of which will have a built-in granny flat.
The homes will sell for $900,000 to $1.3 million.
Construction is expected to begin in three months with the first homes ready in March or April 2021.
"Every home is going to have an incredible view because I left the slopes on the sides so there never can be any development to block the view," said Jeff Phair, president of The Phair Co.
Respecting Mother Nature
"It's high on a hill in La Mesa. It's the last large, vacant parcel that hasn't been developed. It's kind of like the hole in the donut. Everything around it has been developed," Phair said. "Most builders, the big national builders come in and they just cut the whole top of the hill off and they have just one large pad. I tried to be respectful of Mother Nature, what she made."
From their hilltop perch, homeowners will be able to see the Coronado Islands, Point Loma, the Cuyamaca Mountains and Table Top Mountain in Mexico.
They'll share those sweeping views with Toby — a 10-foot-tall steel sculptured T-Rex by Ricardo Braceda.
Toby has become an East County legend much like the Cardiff Kook — a 16-foot bronze statue of a surfer that is regularly decorated with various attire to mark holidays and other events.
"The same thing's been happening to Toby," said Phair. He bought the sculpture in 2018 as a gift for his grandson, whose yard proved too small for theT-Rex.
"Toby has become a celebrity," Phair said. "At Christmas someone dressed him (Toby) as Santa Claus. On Halloween, he was a ballerina with a pink tutu. On St. Patrick's Day, he was a leprechaun."
Toby's permanent home will be in a half-acre park in Summit Estates.
10,000- to 20,000-Square Feet
The homes around Toby will be on lots that will range from 10,000 square feet to 20,000 square feet, "and they will have a lot of open space around them," Phair said.
In all, 35% to 40% of the site will be left as open space.
Most of the homes will be one-story, appealing to what has been a largely untapped market.
Many new developments are predominantly two-story because builders can fit more space on the same size lot as a single-story house.
Single-story homes fill "a real need for my generation," Phair said. "I'm 68. Myself and a lot of my friends are getting old with bad backs and bad knees. Going up stairs is very difficult."
In meeting with people who live near the Summit Estates, most said they'd prefer a single-story home, Phair said.
Adding granny flats to every home — what Phair called "multigenerational suites — also came in part from suggestions that came from the community.
"The multigenerational suite is for the grandparent who lives at home or the rebounding adult, we call them boomerang kids," Phair said. "Most granny flats are detached. This is actually part of the main house."
Each suite will be like a mini-apartment with a separate entrance, a full bathroom, stacked washer and dryer, a kitchenette and a media center.
"Either the adult child or the grandparent doesn't have to come through the front door of the house. They can access it as though it was their own little place but they have the benefit of living with the support of their family," Phair said.
Know Your Neighbors
Each home also will have a front porch "to foster interaction between neighbors" and help build sense of community, said Armida Torres, project manager for The Phair Co.
Designed by Starck Architecture + Planning of San Diego and Architects BP Associates of Rancho Bernardo with Farrington Engineering Consultants as the civil engineer on the project, the homes have a Mediterranean look with "very soft, sandstone and washed brick" exteriors, Phair said, adding that "It will look like a village in Tuscany or somewhere along the Mediterranean coast."
"As you drive down the street, they'll look like custom homes," Phair said. "No two homes on the same side of the street next to each other will look like the one next door."
Environmental Consciousness
The homes will be plumbed to use gray water for landscaping and the landscaping will be natural habitat to conserve water.
They'll also have rooftop, solar panels, programmable thermostats linked to smartphones with four thermostats in a typical home so the temperature can be set by house section.
"If you just want to cool one bedroom, you can," Phair said.
The homes also will be wired for electric charging stations, energy efficient heating and cooling systems, wood floors made from farm-raised wood with no old growth lumber, hypo allergenic carpets made from renewable material, Energy Star-rated appliances, roof-radian barrier insulation, double-paned windows with UV coatings and paint free of volatile organic compounds as part of Phair's goal of making the homes "environmentally friendly."
"I grew up surfing or diving off the coast of San Diego here," Phair said. "I believe in environmental consciousness."