Can VC Investment Match Its Stellar 2019 Performance?
Tuesday, February 18, 2020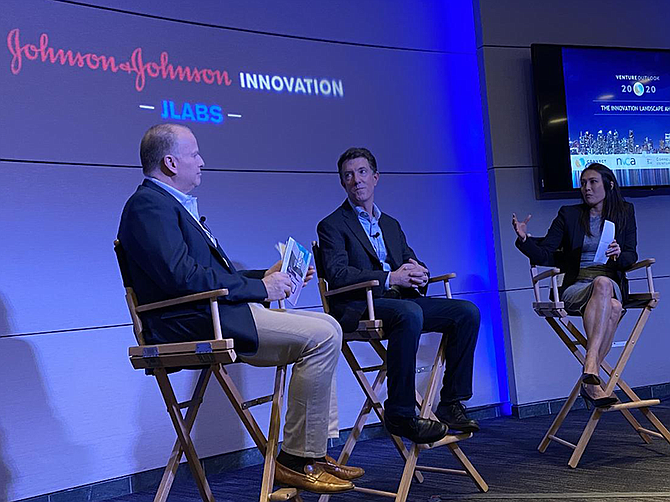 With historic highs of 2019 behind them, will venture capitalists hit the accelerator or tap the brakes in 2020?
That was the question at recent Connect with San Diego Venture Group's 2020 Venture Outlook panel event at the Johnson & Johnson JLABS.
Venture capitalist discussed the venture landscape of San Diego, SoCal, and the nation.
The discussion included panelist Bobby Franklin, president of the National Venture Capital Association (NVCA) and David Coats, partner at Correlation Ventures. Allison Long Pettine, investor and co-founder of Ad Astra Ventures, moderated the event.
$2.5 Billion Invested
According to PricewaterhouseCoopers (PwC), last year roughly $2.5 billion was invested in San Diego-based venture funded companies.
Some thought that 2019 was a peak and the VC industry would start slowing down, while others believed that this substantial level of investment presented the new normal.
Now that the 2019 books are closed, the latter seems increasingly possible due to a variety of structural changes within VC.
"I think this is a huge accomplishment for our ecosystem, important for the city, and it reflects all the hard work done, by not only Mike Krenn (president of Connect with SDVG) Connect with SDVG but by all the entrepreneurs and investors in this ecosystem," Coats, partner of Correlation Ventures, said, about the record local investment.
In 2019, San Diego was ranked number 8 out of the 11 major metropolitan statistical area in terms of number of VC deals and number 7 in total money invested, according to Coats.
Not surprisingly, the greatest percentage of all the dollars invested into San Diego venture funded companies was invested in bio-pharmaceutical companies.
Exits
There were $256 billion in company exits nationally in 2019  —  a new record.
Much of this was driven by persistent trends, Franklin said, most especially that larger deals have closed at every stage and in almost every sector. This is a result of mega-rounds ($100 million+) and mega-funds ($500 million+), which have been a lasting industry component.
Franklin, of the NVCA, said, "Last year, I would go out and talk to different groups about the lack of exits and IPOs. Now we saw a bunch of those come through the system."
IPO Future
The mixed results from the IPO market in 2019 might have reverberations into 2020. There are several large VC-backed companies in the IPO pipeline in 2020, some of which might reconsider listing and instead opt for additional late-stage financing. Franklin said.
"We could also see a pullback from some allocators to VC funds; however, the returns from 2019's sizable IPOs portends plenty of liquidity going back to LPs, which will likely be recycled back into VC funds," Coats said.
National Investment
Roughly $137 billion was invested nationally in the startups in 2019. When you look at the deals completed in most categories, the numbers were flat, except for later stage growth startups  — which almost doubled. Coats said.
Last year, the market saw several other noteworthy trends shape the venture industry, including increasing influence from nontraditional VC investors such as sovereign wealth funds and private equity funds.
Emerging technologies in areas such as health care and cybersecurity are attracting unprecedented levels of VC dealmaking.
Female Founders
Investment into female-founded companies nationally increased slightly from 2018, and those gains made 2019 a record year on an absolute count and value basis for deals with female-founded companies.
In 2019, $18.3 billion was invested in VC deals in female founded companies, up from $16 billion and fewer deals in 2018. Female founded companies with all female founders, saw only 2.7 percent of deals and then 14.3% when looking at just one female factor, according to Franklin.
"When you look at deal activity for female founded companies, it continues to grow nationally, but it's still a small percentage" he said.
While the VC asset class is defined by idiosyncratic situations, many investors are keenly aware of uncertainty in the global macroeconomic environment heading into 2020.
Even with the long-term nature of venture investment, broader market forces could have an impact on deal making if larger economic challenges emerge, Franklin said.