Vividion Therapeutics Lures Former Pfizer Executive
Monday, February 17, 2020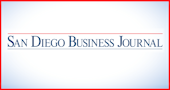 Vividion Therapeutics – a San Diego upstart that last year raised an $82 million financing round – has announced the hiring of a former Pfizer executive.
Robert Abraham, who previously headed Pfizer's oncology research and development unit for a decade, was named Vividion's chief scientific officer.

"The success the company has had in generating and progressing multiple compelling programs over such a short period of time is impressive," Abraham said of Vividion in a news release.
Vividion wants to make medicines for disease-causing proteins tagged as "undruggable." That is, conventional methods fail to alter these proteins.

The company envisions its platform spawning cancer and immunology drugs, though its programs are still in the early stages.

Abraham joined Pfizer in 2009, after the pharmaceutical giant acquired Wyeth, where he led the oncology discovery unit. Prior to Wyeth, he was the cancer center director at San Diego-based Sanford Burnham Prebys Medical Discovery Institute.
Vividion raised $82 million in a series B round last year, preceded by a $50 million series A financing in 2017.
In addition, Celgene – now part of Bristol-Myers Squibb – in 2018 invested $101 million in Vividion.
Vividion's platform is based on the work of three Scripps Research scientists and company co-founders: Benjamin F. Cravatt, Jin-Quan Yu and Phil S. Baran.