Data Centers May Be Hot Market for Co.
Monday, February 17, 2020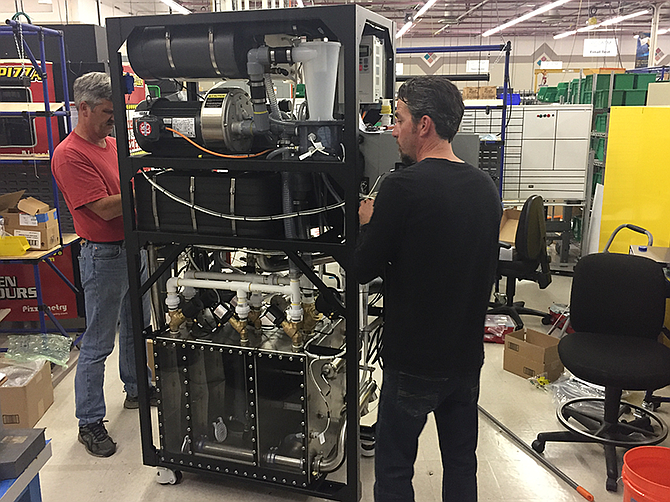 Conditions can get very heated inside today's so-called "server farms," windowless warehouses that contain stacks and stacks of whirling computers.
In fact, air cooling accounts for half of the electric bill at server farms.
Chilldyne, an emerging company in Carlsbad, may have found a cheaper way to go. It is using liquid in place of air cooling.
Steve Harrington, the company's chief technology officer, is the designer behind a system that attaches directly to a server's microprocessor or chip, which generates most of the unwanted heat.
Working Out the Water Problem
The system eliminates water spills, the biggest risk associated with previous liquid cooling technology.
"We suck water in the system under a vacuum, so if something goes wrong it can't leak water," said Harrington. "Any potential leak in the line will be a leak of air, not water, into the system. It's a paradigm changer."
Chilldyne's competition includes two larger companies, Danish-based Asetek and Canadian-based CoolIT Systems. The two rely on older technologies.
"Our competitors push the water around in their systems, so their customers have to guard against leaks," said Robert Spears, the CEO at Chilldyne. "When you have a leak in a positive pressure system, it's like taking a knife to a garden hose. It's the end of the world for a liquid cooling company."
Chilldyne's cooling system was recently part of $3 million in new servers sold to Sandia National Laboratories in Albuquerque, N.M. Fremont's Penguin Computing purchased and installed Chilldyne's technology before shipping to New Mexico.
Harrington said Sandia sent out engineers to check out the technology and see how well it works.
"One mandate of the national labs is to try out new technologies," said Spears. "And they liked what they saw."
To be sure, the sale still was a bit of a pleasant surprise.
Sandia had earlier purchased servers with a cooling system from a competitor using a different technology that did not work.
"It was not a good experience for them," Spears said.
Harrington said he came up with the idea for liquid cooling after talking to technologists at Akamai Technologies, a Massachusetts -based cloud service provider which operates server farms.
The company wanted to find a more efficient method to cool its servers.
Sale to South Korea
Harrington said the 6-year-old Chilldyne got its first big break when a server builder completed a $5 million sale to the South Korean government.
"It was a life or death sale for us," said Harrington.
The South Korean agency purchased a second liquid cooled system a year later.
"We got a repeat sale, so we were very happy with that," said Robert Spears, Chilldyne's CEO.
Chilldyne has also sold a couple of demo systems, including one to the UC San Diego.
Importance of Uptime
"In the data center business, the most important consideration is uptime," said Spears "If anything goes down, the data center operator is in danger of losing his job. Our system is designed to maintain that uptime."
When it comes to markets, Spears said Chilldyne has its eyes on hyperscale data centers, massively large server warehouses operated by such giants as Amazon, Google, and Microsoft, as well as large co-location operators and universities.
Phil Pokorny, a technology executive at Penguin speaking personally as a computing engineer, said, "Steve has developed revolutionary technology; the way in which Chilldyne has architected his company is unique."
"It solves a key concern that people have with liquid cooling," Pokorny said. "Water and computers don't mix.
Looking ahead, Harrington noted that Santa Clara's Intel Corp., which is the main supplier of server microprocessors, is introducing a new server that requires 400 watts of power, which should be a boost to future sales.
"They can't be cooled with air," said Spears. "Even many existing server racks which generate just 1 to 2 kilowatts of power throw off large amounts of heat."
While the company is starting to build out its market, it is trying to raise a $3 million Series A venture capital round.
In addition to his roll at Chilldyne, Harrington is CEO of Carlsbad-based Flometrics, which provides R&D and engineering services to the aerospace, semiconductor, medical devices and consumer products industries.
A veteran engineer, Harrington holds a dozen U.S. patents and teaches a senior aerospace design class at UCSD.
High Standards
He said the Flometrics-designed pumps used in Chilldyne's cooling systems are built to the same standard as a commercial jet aircraft part or medical equipment.
"We have the know-how to do this right," said Harrington. "We're confident we got it right."