Big-Box Hits the Road; Lyft Pulls Into Space
Monday, February 17, 2020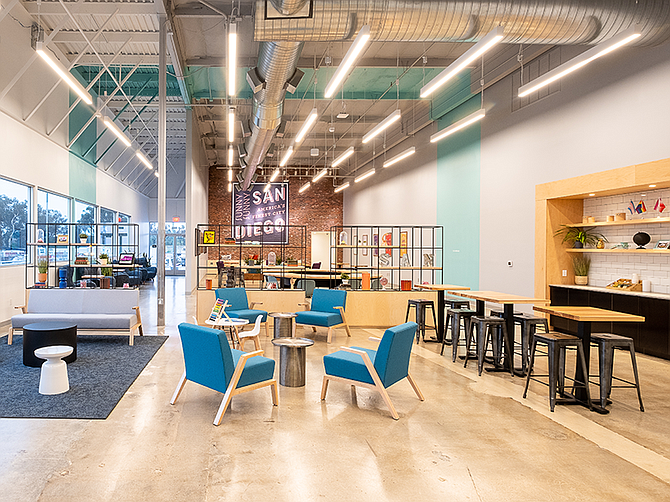 Where children used to wander with eyes filled with wonder by shelves stocked with toys almost to the ceiling, drivers for the ride-sharing service Lyft can bring their cars for oil changes and other maintenance.
Lyft has converted a former Toys R Us store at 1240 W. Morena Blvd.into its first Drive Center in San Diego County and its fifth in the nation.
"We know that maintaining a vehicle can add up and our goal is to service drivers' vehicles in a timely and affordable way so they can get back on the road," said Hao Meng, Lyft general manager for Southern California.
San Diego Is Biggest Center
Lyft also has Drive Centers in San Francisco, Austin, Denver and Phoenix, although the San Diego center is the biggest.
'Maintaining a vehicle for a driver can really add up, both from time and expenses," Meng said. "It becomes especially critical to get your repairs completed in a timely and affordable manner."
Lyft's ride service competitor, Uber, provides similar services through its Uber Greenlight program but at existing service stations instead of having its own service center.
Lyft declined to say how much it spent on the renovations or how many drivers the company has in San Diego, but Meng said the Driver Center has a staff of 20.
The interior of the former toy store was completely redone by Lyft.
Although Lyft stopped short of actually gutting the building, vinyl flooring and cash register check-out stands were removed and four garage-style roll-up doors were installed on the south side of the building.
The vehicle service area to the rear of the building area takes up about 26,000 square feet.
The lounge — what Lyft calls its driver support area — takes up 4,187 square feet at what was once the front entrance to Toys R Us with an additional 4,886 square feet converted into office space for Lyft's San Diego operations.
Free Wi-Fi service is provided, along with snacks and coffee where drivers can relax, socialize or work on their laptop computers.
Part of an interior brick wall at the north end of the lounge/office area is covered with a huge sign in Lyft's pink and black color scheme that reads "Sunny, sunny San Diego America's Finest City."
People entering the lounge are greeting with a pink neon-lit "hello sign."
The exterior of the building is painted gray and white, with a wrap-around mural created by San Diego artist Celeste Byers covering the front and part of a side wall.
The service area is designed to function more like a race car pit stop than a standard car repair shop.
Like a Pit Crew
"We have several technicians working simultaneously to complete the repair work efficiently," Meng said. "Our goal is to get it done as fast as humanly possible."
Drivers pull into the service area through the garage doors and a crew goes to work.
There's a separate area for diagnostics, but for repairs and regular service like oil changes, the cars line up in front a lift and Lyft crews go to work.
Tools are kept arrayed on racks next to the car lifts for easy access instead of in tool boxes.
Replacement parts are at the ready for mechanics to grab quickly from movable shelves that are about waist high.
"You're not going to have to look through a bunch of tools to find something," said Chris Buller, head of vehicle service field operations.
Lyft drivers register their cars with the service, so mechanics have a good idea what they'll need when drivers arrive.
"We have the data. We know all the cars that are here," Buller said. "We know that cars are on our platform so we can have the right parts on our shelf."
For the unexpected, Lyft has an arrangement with a nearby auto supply store to deliver any needed part within 10 minutes, Buller said.
Appointments Are Encouraged
Although appointments aren't mandatory, they're encouraged.
Buller was reluctant to say how long typical repairs would take, but he said it would be faster than in a conventional shop, adding that "it's very rare that a car stays overnight."
"Absolutely, our goal is for that never to happen," Buller said.
Meng said another goal is to keep prices lower than drivers would pay elsewhere, adding that a full synthetic oil change would cost $49.99.
"This is such a fantastic service for drivers like me to be able to keep our cars in good shape," said Alfred Porche III, a veteran of the war in Iraq who has been driving for Lyft for more than three years.
Besides servicing the vehicles of current drivers, people who want to work as drivers but don't own their own car can rent one at the service center through Lyft's Express Drive program at the center.
A rental partner, Flexdrive, provides the vehicles, which include a fleet of hybrids.
Later this year, Lyft will add collision repair to Driver Center services, Buller said.
Big-Box Space Is Hot Commodity in S.D.
Unlike what's happening elsewhere where former big-box stores remain vacant, they're hot commodities in San Diego County, said Craig Killman, an executive vice president with the commercial real estate brokerage JLL.
"There aren't enough vacancies from my perspective because I have big-box occupiers that I can't find space for," Killman said. "They're just not available. San Diego never got overbuilt from the big-box perspective."
When big box stores do become vacant, most are quickly taken over by someone else or torn down to make room for something else as Seritage Growth Properties is doing at Westfield UTC.
The company razed a former Sears store and is replacing it with a collection of smaller stores it's calling The Collection at UTC that will include an upscale Equinox Fitness.