ResMed's Q2 Net Income Increased 29% to $160.6 Million
Sunday, February 16, 2020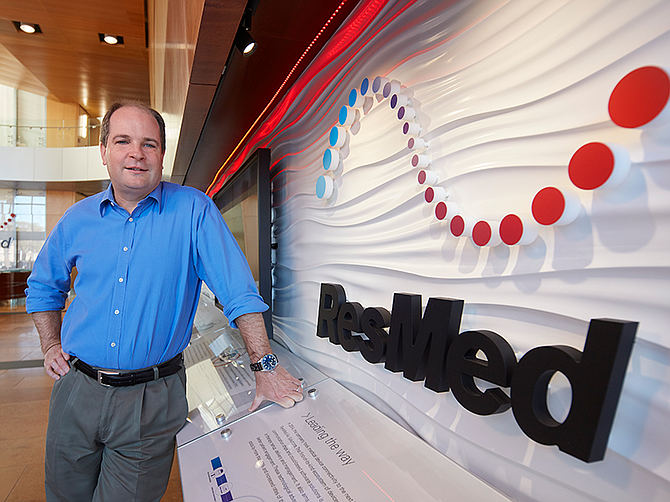 In second quarter earnings ResMed reported $736.2 million in revenue, a 13% year-over-year increase owing to increased demand for its masks and software aimed at breathing disorders.
The San Diego company also improved its bottom line.
Net income during the quarter came to $160.6 million, a 29% increase over the prior year, according to ResMed.
The company's core business is treating sleep apnea, in which breathing stops and starts during the night, causing tiredness during the day and potentially serious issues like heart disease.
900M Afflicted?
ResMed believes more than 900 million people worldwide are stricken by the breathing disorder, and the majority haven't been diagnosed, representing a company growth opportunity.
"We continue to benefit from strong market dynamics," CEO Mick Farrell said during an earnings call.
ResMed's quarterly results topped analyst expectations. The company posted $176.3 million in adjusted earnings, or $1.21 per share, 19 cents better than analyst forecasts.
Farrell said the masks and accessories segment grew in the high-teens during the quarter, and he noted growth in the company's software-as-a-service business.
He then touched on ResMed's partnership with Verily, the life sciences spinout of Google parent company Alphabet. ResMed and Verily created a joint venture to research and develop software for sleep apnea.
Pilot Programs
"We have commenced pilots in a handful of U.S. cities to improve awareness, identification and engagement with the importance of good sleep and breathing to overall health," Farrell said, of the unnamed venture.
"Our philosophy is this: The more a person knows about how much they suffocate every night, and the consequences of that suffocation on their overall health outcomes, the more likely they will seek solutions."
Margaret Kaczor, an analyst with William Blair, in a research note said the second quarter was another strong one. Propelling the company: a strong uptake from legacy masks to newer masks broadening ResMed's portfolio.
"The segment continues to post impressive above-market growth as ResMed continues to take share and grow its installed base of patients," Kaczor said.
She believes the company has a long runway in three areas: sleep, chronic obstructive pulmonary disease and software-as-a-service.
Integrating Acquisitions
Kaczor called the last category a work-in-progress, as ResMed works to integrate a string of acquisitions.
Notably, ResMed more than a year ago paid $750 million for MatrixCare, maker of software for more than 15,000 providers in skilled nursing and senior living.
In the earnings report ResMed disclosed that it acquired SnapWorx for an undisclosed price. Privately held SnapWorx does contract management and workflow optimization for sleep apnea resuppliers.
ResMed called the deal a tuck-in acquisition, one that fits its software offerings under its Brighttree division.
"The combination of Brightree's technology and logistical services with this new SnapWorx technology creates the largest resupply base in the industry with end-to-end workflow automation," Farrell said.