Comma.ai's Latest Driver Assistance Tech Expected to Drive Revenue
Thursday, February 13, 2020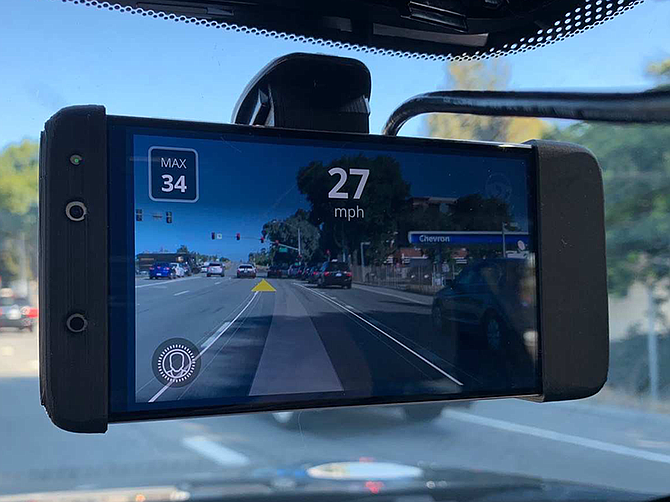 Comma.ai, a Palo Alto-based startup which moved its headquarters to San Diego early last year, released its latest product, the Comma Two.
The local startup, sells hardware that drivers can use for "passive" driving assistance (It performs similarly to Tesla Autopilot and GM Super Cruise), the device also provides notifications of potential hazards.
Founded in 2015, by George Hotz, best known for being the first person to "jailbreak" Apple's iPhone.
"It's a box, you put it on your windshield, and it operates your car (with you) as a driver assistance system jointly," Hotz said, of Comma.ai's hardware.
The company, unlike its competitors, has paying customers for its products and is generating profit from its openpilot business model.
According to Comma.ai's website, openpilot is described as an open source driver-assistance system. Features and performances include the functions of Adaptive Cruise Control (ACC) and Automated Lane Centering (ALC) for compatible vehicles. Openpilot can steer, accelerate, and brake automatically for other vehicles within its lane, the company said.
Revenues
With the Comma Two releasing at the start of the year, it has already made more money in the month of January than in all of Q1 last year, Hotz said.
The total revenue brought in this quarter alone was more than $1 million and that the company's projected revenue rate is $5 million, anticipating to net $3 million in profit.

Last year Hotz stepped down as company's CEO, promoting Riccardo Biasini, who previously spent five years with Tesla before working alongside Hotz as the vice president of quality. Hotz now serves as the company's president and leads Comma's research team.
To date, Comma.ai has raised a total of $8.1 million in venture funding. The most recent fundraising round closing at $3.1 million in Series A funding, led by Andreessen Horowitz in 2018. Hotz said, the company is currently not seeking any investments.
Choosing Hardware
Initially, Comma.ai planned to sell the software, but the company received a cease and desist warning from the National Highway Traffic Safety Administration threatening that it would block sales without proof of its safety.
Shortly after, Comma.ai decided to open source it and sell only the hardware.
Hotz said the company currently faces no competition in the autonomous driving space, however, the startup landed on the radar of at least one carmaker — Tesla.
In 2015, Tesla took issue with a Bloomberg profile of Comma.ai which claimed Comma's autonomous driving system to be "extremely unlikely" to produce an autonomous driving system that can be deployed to production vehicles.
While Tesla and others aim to provide self-driving cars to the masses, the Comma.ai team sees a major opportunity to make driving safer in the meantime by getting some autonomous features to human drivers today.
The Comma Two is a niche product for enthusiasts. For regulatory and liability reasons, customers have to install the OpenPilot software onto the Comma Two; it doesn't come ready to go.
The hardware costs $1,000 with an additional $200 cable needed.
Compatibility
OpenPilot isn't compatible with every car just yet. It only works with select models and model years.
Altogether, the system works with around 60 vehicle variants, mostly Hondas and Toyotas.
Comma.ai obtains data from its users (if given access), which it uses to improve the software, according to the company's website. So far, it has data from more than 14 million miles of driving, the company said.
Taking an untraditional approach among its peers, Comma puts little to no marketing dollars toward customer acquisition efforts, according to Hotz. Currently the company only sells its products online; (mostly) all paying customers have discovered Comma.ai through the internet.
"We are the second most followed autonomous driving company account behind, Tesla." Hotz said. Comma engages with its niche community through blog posts and social media platforms, Twitter being its biggest platform which has a following of 27 thousand.
Talent Pool
Whether Comma.ai would be able to bring on top talent in San Diego as the company continues to grow was a consideration in the decision to move, said Comma's CEO Biasini in a news release. Recent expansions in San Diego by top tech players alleviated that concern.

"San Diego's excited to grow, while San Francisco (at least) acts very anti-growth." Hotz said, "Second-tier cities are generally a good deal, because you get the amenities. For example, you get the scooters in San Diego, but you don't have scooters in San Francisco … you just don't get those negative inclinations here."
Looking ahead, company officials said it plans to release a new product every one to two years, similar to Apple's product release roadmap.
So far, the startup up has come out with the Comma.ai one and two, Comma Three release date has yet to be determined.