Special Report: What Direction Wealth Management?
Sunday, February 2, 2020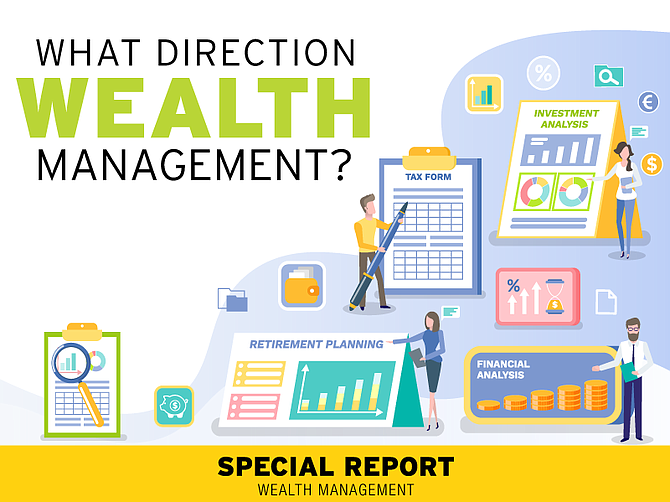 As the first month of 2020 recedes rapidly into the rear view mirror, we asked some of the region's top financial advisers for their predictions concerning wealth management issues in the year ahead — and beyond.
2020 is already turning out to be most unusual, what with the roiling politics in Washington and the impact that might have on the outcome of the presidential election. And then there's the unforeseen, such as the coronavirus eruption in China, not to mention the ongoing U.S.-Sino trade conflicts threatening the global economy.
Against this backdrop, the advisers we talked to say it's not so much what's in the nightly news, as what's behind it, especially in terms of the perceived threats to the environment around us.
It shouldn't come as a surprise, given the growing concern over the climate and its impact on the environment.
The advisers pretty much agree that more of their client base wants the focus to be as much on social and environmental concerns as on returns and security when it comes to portfolio strategies.
It's an attitudinal shift that separates the Baby Boom generation from their children and grandchildren.
For example, Will Beamer, chief investment officer for San
Diego-based Dowling & Yanhke Wealth Advisors, notes that his clients are asking that sustainable investments be included in their portfolios.
"One consideration we're looking at is whether there is a way we can offer a parallel offering to our traditional investment portfolios that allows our clients to express those values … whether those are around the environment, sustainability or social concerns, such as diversity of boards of directors or firearms and defense munitions," he said.
"Currently there is more emphasis around sustainability concerns," he added. "So, we're looking at the environmental piece first."
Emerging Sectors, Green Bonds
Matt Hansen, senior vice president at Hansen Wealth Management in Rancho Bernardo, part of the UBS Wealth Management USA umbrella, said more of his clients are asking about sustainable investing, and are expressing their concerns about the negative impact of climate change, such as water scarcities worldwide as weather patterns change.
They're also asking about such emerging sectors as digital transformation and human genetic therapies, investment sectors that didn't exist a few years ago.
Hansen noted, for instance, that last year more than $230 billion in green bonds were issued, which points up the demand on the part of investors for sustainable investments.
He said that "themes" embedded in impact investing and social change are now included in global portfolios in their overall allocations offered by the firm.
"We have a number of different investing solutions that are sector driven. Our analysts say some of these could offer better return on assets as the popularity of these investments increase."
'Probably Unstoppable'
Beyond the desire for sustainability, advisers report clients are still concerned about returns, and the economic conditions that could impact those returns.
These are two considerations that never change when it comes to setting portfolio strategy.
Marc Doss, chief investment officer at Wells Fargo Wealth Management, said social and environmental issues are concerns among Well Fargo's clients too, especially among younger clients in the early years of their investment trek.
He noted that many clients in the younger demographics want ESG (the initials stand for environmental, social, governance) employed in their portfolios.
"The older generations don't have as much focus" on that issue, he added. "Basing your personal values into your portfolio is a trend that's probably unstoppable and will continue to grow as the younger generation starts to inherit and make more wealth."
In previous decades, when clients tried to align their values with their investments, the returns weren't so good compared to tried-and-true traditional investments.
"You suffer on some performance, but now you don't," he said.
Today's investors can invest not only in stocks, but in bonds, and other areas, such as real estate. "You can align your values, but you don't have to give up competitive returns," he said.
He said such investing has had a positive impact on clients because it keeps them focused on their portfolios beyond the dollars and cents involved.
"You have a belief system built around your investments," said Doss.
Equating ESG and Resilience
Today's client portfolio often combines personal belief systems with the science and art of traditional investment strategies. Publicly traded companies that have adopted good ESG (environmental, social and governance) practices "held up better during the downturn." They tend to be better managed, and thus better performing in the marketplace.
John Naviaux, a financial adviser in Merrill Lynch's Rancho Santa Fe office, said he's finding that today's Gen-Xers and earlier generations want to ensure that their values aligned with the investments in their portfolio
Naviaux serves on a 20-member board focused on NexGen issues at Merrill Lynch. He's the West Coast representative, and it's a much-discussed topic.
He said such issues as sustainability "is of interest to all clients, especially to Millennials and Gen-X groups."
"We've developed a lot of resources at Merrill to align our client's values with the proper investments."
"We know a lot of companies now that know the power of those incoming dollars, and they are shifting their appeal to those people want to do impact investing," said Naviaux. "These companies are changing their boards and how they do business."
As a result, "the returns have gotten more robust," he added. "The returns have been better than they were even just a decade ago."
2019 Versus 2020
Environment and social concerns aside in 2020, the financial advisers contacted for this story pretty much agree that in terms of economic and financial growth, the year won't turn out to be as good as 2019 when most portfolios enjoyed robust gains.
UBS's Hansen is advising his clients to lower their expectations accordingly.
"2019 was a good year for all asset classes — 18 of the asset classes were all positive," said Hansen. "Although we expect 2020 to be positive overall, we do expect lower returns compared to 2019."
He also said he's advising clients that the returns from markets over the next 10 years will most likely be lower than the past 10 years.
"There is a lot of volatility on the political side. It's causing the markets to be a little volatile," Hansen said. "We're still dealing with such issues as global trade and tariffs, and we have an impeachment and we have an election year."
'A Little Bit of Turmoil'
He noted that traditionally a presidential election year is good for the economy and equity markets, and he also noted that the consensus is that if President Donald Trump wins a second term in office that will be good too. And thus, good for his client's portfolio.
"We don't take sides, but if we had a rollback of tax cuts and regulations, we would have little bit of turmoil," he added.
Hansen said he works with his clients under a framework that he calls the "three L's," or "liquidity, longevity and legacy."
The framework ensures that when clients retire that they have sufficient amounts of liquid investments on hand to fund the early years of their retirement under the first L.
The second L looks at appreciating investments to meet the needs of clients in later years of retirement while the third L is focused on long-term growth in the final years of retirement, and a legacy for heirs.
Goals, Not Returns
Paul Thiel, the San Diego region president for Northern Trust, noted that investors should be prepared for less-robust returns than in 2019.
"It will be a rewarding year for equity investors — mid-to-high single digit returns in equities globally," he said.
Meanwhile, Thiel recommends that someone with investments of $5 million to $10 million — not that unusual in the wealthier enclaves of Southern California — should focus on their goals, not returns. Then, work backwards to create a spending, savings and investment plan that extends out to and through retirement.
"Wealth management is about more than just investing," he said. "It's also about earning and saving, but too many people get caught up in chasing returns — a hot stock or a piece of real estate they think is miraculously underpriced."
And those with sizeable assets might consider the risks of investing alone.
"Many people are best served by working with a professional to determine their needs over the long haul, and then working to maximize both the chances of success and the amount of turbulence they can endure," said Thiel.
Wells Fargo's Marc Doss noted one of the big questions is whether the U.S. economy is going to face a recession in 2020.
"Do we batten down the hatches this year, or do we have some opportunities," he asked rhetorically. "We don't think we're going to fall into recession this year unless some event happens that we don't anticipate, such as the coronavirus."
His guess, in line with the other advisers, is that the markets and the economy remain strong.
"It's not going to be 2019," he said, "We're not going to be up 31 percent on the S&P 500, and fixed-income (investments) won't be up as dramatically as well."
"We're not going to hit the home runs like we did last year," he added using a metaphor from baseball. "It's going to be singles and doubles."
Staying Vigilant
One unknown is the outcome of the presidential election set for Nov. 3.
Some will cheer for the current occupant of the White House — for historic, not political reasons.
"Normally the markets are happy when the incumbent wins," Doss said, "Because that person is someone they know, so the markets tend to do pretty well when the incumbent wins."
"When you look back over time, when the incumbent loses the economy is usually down going into the back end of the (election) year."
Northern Trust's Thiel had some advice for those who might be worried about the outcome of the election, no matter who walks away with the next four-year term. In a word: Vigilance.
"In the past, the markets have tended to drift sideways during the primary season and then settled toward the summer, but our overriding theory is that it is neither frugal nor necessary to make big bets prior to the election," he said. "Rather, we recommend doing some scenario planning for various results in November, so that quick action can be taken."
And Merrill Lynch's Naviaux emphasized the importance of investors staying focused on their goals both for the short term and the long term instead of getting too wrapped up in the breaking news stories of the day on CNN or Fox News.
Like the other advisers interviewed, he said Merrill Lynch doesn't see 2020 being a repeat of 2019, which saw all asset classes enjoy positive returns.
"What happened in 2019 has happened only four other times in 20 years," he said.
"We tell our clients to look at the fundamentals and the data behind those fundamentals," he said. "It's important for the investor to set their goals and objectives, and then determining the asset allocations to meet those goals and objectives."