GreenBox Adds $2.66 Million
Thursday, December 31, 2020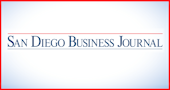 GreenBox POS, a digital payment processor company which develops customized payment solutions, has closed a $2.66 million private placement. 
The company plans to use the new funds or development resources for upgrades to its software technology platform.
Kingswood Capital Markets, a division of Benchmark Investments, Inc., acted as the exclusive placement agent for the transaction. 
Under the terms of the placement, 1.8 million of the shares in this transaction were jointly contributed by Chairman, Ben Errez, and CEO, Fredi Nisan, to reduce potential dilution and for the sole benefit of the company.
GreenBox, which trades under GRBX on the Over-the-Counter exchange, develops point-of-sale software and hardware; delivery and payment applications; and merchant services, such as deposit and electric wallet management.
Headquartered in Mission Valley, the company employs 22 at its San Diego headquarters, and offshores software development and customer services to Brazil, the Philippines, India and Pakistan bringing its total staff count to 112.