RF Industries Has $43M Year
Wednesday, December 30, 2020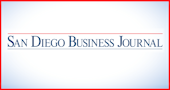 Electronics maker RF Industries Ltd. reported net income of $159,000, or 2 cents per share, on net sales of $10.7 million in its fourth quarter, which ended Oct. 31. The business announced its earnings on Dec. 17.
For the year, RF Industries (Nasdaq: RFIL) essentially broke even, reporting a net loss of $81,000, or a penny a share. Net sales for the year came to $43 million.
RF Industries, based in the Miramar area, makes and markets interconnect products and systems, including cables and fiber optic cables.
"We continued to successfully navigate this extremely challenging operating environment and are pleased to finish the fiscal year with a return to sequential revenue growth and profitability in the fourth quarter," said Robert Dawson, the company's president and CEO, in a statement released by the company.
"During the year we strengthened our go-to-market capabilities, adding significant new talent to our sales team and broadening our relationships in the carrier ecosystem. We also significantly expanded our product offerings through the two acquisitions we did in 2019. As we begin our new fiscal year, we believe we are more effectively positioned to grow our business and we look forward to returning to year-over-year revenue growth in fiscal 2021 as we continue to execute on our long-term growth plan."