Renovated Del Mar Offices Drawing Tenants
Tuesday, December 22, 2020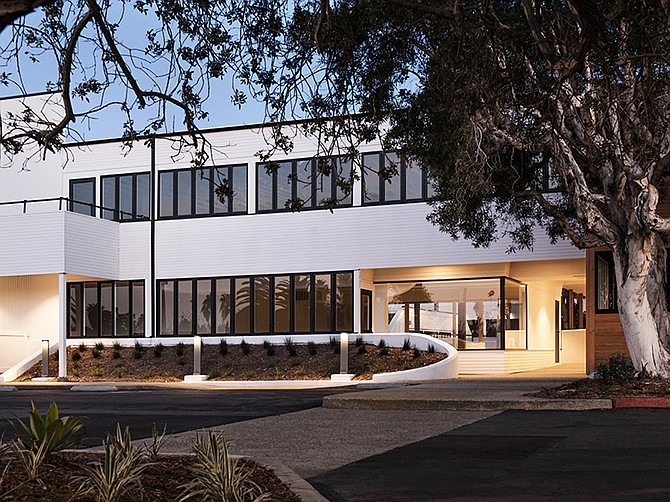 A dated and bland Del Mar office and retail complex has been given a $4 million makeover to give it a beachy feel that is drawing tenants despite the pandemic that has decimated the overall office and retail market in San Diego County.
"While retail is currently struggling due to COVID, we've been in active negotiations with restaurants, wine bars and yoga studios and expect the property to include a mix of mostly office with some retail uses," said Justin Loiacono, principal of Harbor Associates based in Long Beach.
"Office leasing in San Diego has slowed considerably but this project has had quite a lot of interest throughout COVID," Loiacono said. "Even before renovations were complete, we leased 25% of the rentable space to tenants in the health care, medical, financial services and technology sectors with leases out to similar tenants for another 10,000 square feet."
Renamed the Bungalows Del Mar, Harbor Associates in partnership with the Bascom Group expects the 39,537 square-foot complex at 2010 Jimmy Durante Blvd. will be 50% leased by the end of the year.
The Market
The overall office market in San Diego County was rocky in the third quarter of 2020, according to the commercial brokerage firm CBRE.
Net leasing activity was up 6% in the third quarter compared to the second quarter, when the pandemic first hit.
Even so, year-to-date leasing activity in the third quarter was 34.5% lower than the previous three-year average, according to CBRE.
The office vacancy rate in the third quarter reached 12%.
Loiacono said the success of the Del Mar project "speaks to the characteristics of the property."
"The project includes many attributes that we think will be most in demand for tenants during and after COVID, including direct exterior entries into tenant spaces as opposed to enclosed hallways, restrooms accessed from outdoor common spaces, excellent circulation due to the operable windows throughout, expansive outdoor patio and meeting space and independent HVAC systems."
Renovations were designed "to create a modern workplace that matches the coastal location and vibe," Loiacono said.
They included new siding and roofs, adding bicycle and surfboard storage rooms, electric vehicle charging stations, on-site showers and Wi-Fi service in the courtyard.
Many of the spaces also have vaulted ceilings and a rooftop garden was added to one of the buildings.
The overall complex has an open feel, Loiacano said.
"It's kind of like three or four different pods that are all kind of connected with walkways, Loiacono said.
The complex also is within walking distance to the beach – a rarity for updated office space.
"There's just not a lot of boutique, renovated, newer product in coastal San Diego County," Loiacono said.
History
Harbor Associates and the Bascom Group bought the property in May 2018 for $15.7 million, according to CoStar, a real estate research company.
Built in 1981, the complex was "a tired, brown, woody walk-up office project" when Harbor Associates acquired it, Loiacono said.
"The project included a lot of really small offices," Loiacono said. "Now, I would say they're kind of open, creative office build-out with much more natural light."
Jerry Fink, managing partner of the Bascom Group, said the Bungalows Del Mar is one of several projects planned.
"Despite the pandemic and lack of office sales transactions, we have a robust pipeline of activity behind this transaction and look forward to continuing to build our Southern California portfolio," said Fink.