Salvation Army Expands Project
Monday, December 21, 2020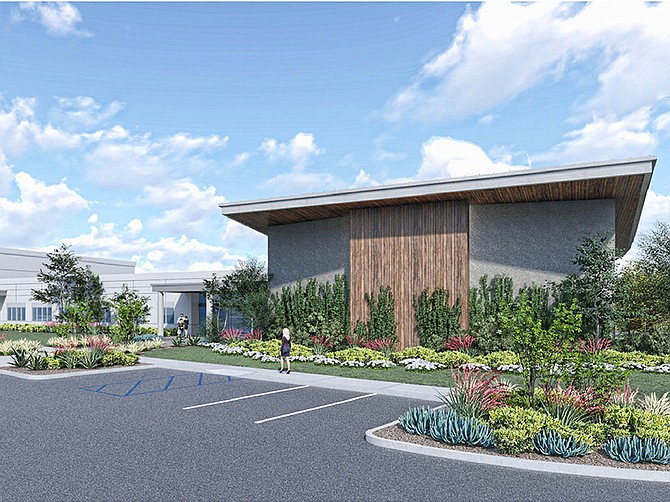 The Salvation Army Adult Rehabilitation Center (ARC) is expanding the $40 million new campus it's building in Otay Mesa to include a women's residential treatment center estimated to cost about $3 million.
Details are still being worked out, but the women's center would be in a third building on the Salvation Army ARC campus that started construction in June.
"The need for women's beds in San Diego County is real and it's great," said Major Henry Graciani, general secretary of The Salvation Army Centers Command based in Long Beach.
Preliminary plans call for the women's center to provide residential treatment for 30 women at a time.
"We want to be on the same campus," Graciani said. "If we're doing it, we might as well do it right and have women on the same facility."
The women's center will be linked to the rest of the project by a covered walkway.
Scheduled for completion in April 2021, the new Otay Mesa campus will include a residential treatment center for men, the Salvation Army ARC's San Diego County headquarters and a separate warehouse and store for collecting and selling donated goods.
Fundraising
The Salvation Army ARC also is trying to raise $500,000 to pay for its treatment at the new campus, partly by selling paving stones that will be used in construction of the campus.
"This is one way folks in the community can be part of this lasting legacy," said Patty Zamora, Salvation Army ARC community relations director. "We want to reach out to the community. This is a chance to give back."
Zamora said there are 1,752 of the bricks for sale, each of which is eight inches by four inches.
The paving stones cost from $120 to $1,020 and come in varying designs of crosses and diamonds.
"We took a massive hit financially," Graciani said. "With this pandemic, there's been a lot of depression, a lot more drug and alcohol use, so there's a greater need for our services."
When the pandemic began, the Salvation Army closed all of the thrift stores that it relies on for much of its funding.
Stores and donation centers weren't reopened in California until June, Graciani said.
The Move
The Salvation Army ARC in October 2019 sold the downtown building it had used since 1980 at 1335 Broadway to Kilroy Realty.
"It was time for a move and we took advantage of an opportunity," Graciani said. "The older building in downtown San Diego was just getting too expensive to operate."
The nonprofit has had a downtown San Diego presence for more than 70 years.
"The Salvation Army is very slow to relocate. Once we put our stakes in the ground, we're there for the long haul," Graciani said.
Given the choice, Graciani said he would have preferred a new downtown location but chose Otay Mesa because land was far less expensive.
"I love the idea of being in Central San Diego. With the size we needed that would allow us to have a single-level warehouse operation, we needed to go outside the city limits," Graciani said. "This land affords us the opportunity to do that, to build something of quality that will last for decades."
The Salvation Army will continue to use the old building until the new center is completed.
"This will better position the Salvation Army in San Diego County for several decades of service to that community," Graciani said.
The Campus
Not including the planned women's center, the nearly 12.8-acre site will include an 83,073 square-foot warehouse building and a 44.569 square-foot support services building, said Tim Schulze, principal of Pacific Cornerstone Architects based in Sorrento Valley – the architect on the project.
Lusardi Construction based in Kearny Mesa is the general contractor.
Murphy Development Company also is building two warehouse buildings totaling 229,023 square feet on 14 acres adjacent to the Salvation Army Project.
Brown Field Technology Park, LLC, Murphy Development Company, and Lusardi Construction are title sponsors of the Otay Mesa project. Combined, they are donating $25,000.
Patterned partly after a similar project in Oregon, the Salvation Army Otay Mesa campus is "one of the most rewarding projects our firm has been part of," Schulze said.
The two-story support services building will include 2,300 square feet of classroom space, a 3,200 square foot commercial kitchen, a 3,000 square-foot meeting room , a library, a computer room and 18,000 square feet of residential space with 9,400 square feet on the first floor and 8,500 square feet on the second floor, Schulze said.
With ceilings up to 23 feet and exposed wood beams in some areas, the residential section will include 36 bedrooms of about 240 square feet with three beds per room, Schulze said.
It will include a laundry room, work-out room, showers administrative offices,
There also will be a large patio off the kitchen and dining area, outdoor seating areas, a basketball court, a bocce ball court, and a screened outdoor courtyard for sorting and storing donated goods.
The campus will offer residential treatment for alcohol and drug addiction for up to 120 men at a time in a six-month program that includes counseling and job training.
If more time is needed, those in treatment can extend their stay for an additional six months.
"A majority of them come to us because they've tried everything else. They've lost their resources, they've lost their connections with families, they feel 'I can't do it anymore.' That's when the real growth takes place and they reach out for help," Graciani said. "They come with just the clothes on their back. "We'll feed them, house them, clothe them, provide a very structured program for change."
The women's program is similar to the men's program.
Despite the COVID-19 pandemic, Schulze said the project is on target to be delivered in mid-April 2021 on budget.