Quidel Delivers Record Profits
Monday, December 21, 2020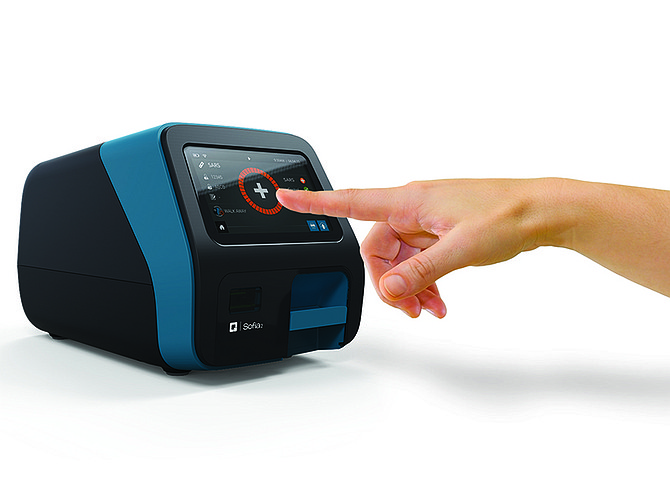 It has been a remarkable year for Quidel, which delivered record profit and revenue over two successive quarters since the coronavirus pandemic took hold earlier this year.
The San Diego-based diagnostics company reported third-quarter revenue of more than $476 million, a 276% increase compared to the prior year.
CEO Doug Bryant said the increase is largely driven by forecast demand for the COVID-19 and flu combo test, as well as the company's standalone COVID-19 diagnostics.
Quidel more than doubled manufacturing capacity to over 2 million antigen tests per week and plans to triple that number to as many as 6 million tests a week by mid-2021.
The company's revenue has grown more than 27% in the last five years. It expects $800 million or more in revenue in the fourth quarter as the number of confirmed U.S. COVID-19 cases surges.
First to Market
Quidel already had all the elements needed to play a significant role in SARS testing, said Bryant, adding that Quidel's rapid immunoassay technology was developed over several years.
When COVID-19 hit, the company quickly redirected to focus on the virus. As a result, Quidel was the first company to get U.S. Food and Drug Administration approval for a rapid antigen test in May.
Quidel's system detects pieces of the novel coronavirus from nose or throat swabs, delivers results on-site in about 15 minutes after placed in the company's desktop Sofia 2 diagnostic reading device.
With the flu, the test discovers the strains correctly 90 percent of the time and rules them out correctly 95 percent of the time. It can detect COVID-19 correctly 95 percent of the time and rules it out correctly 100 percent of the time.
While not as accurate as the more-common, lab-based PCR tests, antigen tests can deliver results in a matter of minutes as opposed to a day or more.
The company is currently supplying daily COVID-19 testing for athletes and staff for both the Pac-12 and Big Ten conferences. Most of Quidel's revenue is built on medical tests that are sold to the health care sector.
Robust Pipeline
In 2017, Quidel acquired Alere's Triage assets for $680 million, which added an extensive cardiovascular and toxicology point-of-care offering to its portfolio of diagnostics for diseases and conditions such as flu, RSV and strep, among others.
Quidel's stock price skyrocketed nearly 39 percent on the news, valuing the San Diego company at $1.5 billion. That deal later turned out to be huge for the company's bottom line, according to the company.
Quidel's Sofia 2 FIA, Triage MeterPro and AmpliVue products will continue driving revenue growth in the next five years. In addition, the company's high-growth molecular diagnostics business, driven by its Solana MDx instrumented system, will also drive long-term revenue growth.
Quidel has a fairly robust pipeline of molecular and antigen tests awaiting EUAs from the FDA or expected to be submitted soon. Applications for these new tests range from hospitals and physician offices to schools and, ultimately, at-home use.
"Our aim is to have 12 total different COVID products. Four of which are already approved, two more of which are under active review by the FDA today — we're halfway home," said Bryant. "We've got a number of other things that we're working on, it's been extremely motivating for the team."
Ramping Up Production
The company has doubled production of Sofia rapid antigen tests to about 2 million tests per week at its San Diego manufacturing facility.
"We are constructing additional production lines that will more than double our current capacity once again. Our goal is to reach a run-rate of over 220 million tests per year by July of 2021," said Bryant.
While most of those tests will be COVID-19 related, the company still expects to deliver diagnostics for Strep A, Respiratory Syncytial Virus and additional ailments.
Looking ahead, Bryant foresees the level of tests required for the ongoing pandemic will persist well beyond 2021. Headquartered in Sorrento Valley, it employs roughly 1,300 local staffers with plans to add 300 more next year.
"At some point in time in 2021, we hope to get 100 million tests a month," he said. "In order to do that, we're going to have to hire an additional 300 people next year." Quidel's headquarters is in San Diego, with its research and manufacturing operations in Ohio, Massachusetts, and Germany.