Healthcare Agency to Build $30M City Heights Project
Sunday, December 20, 2020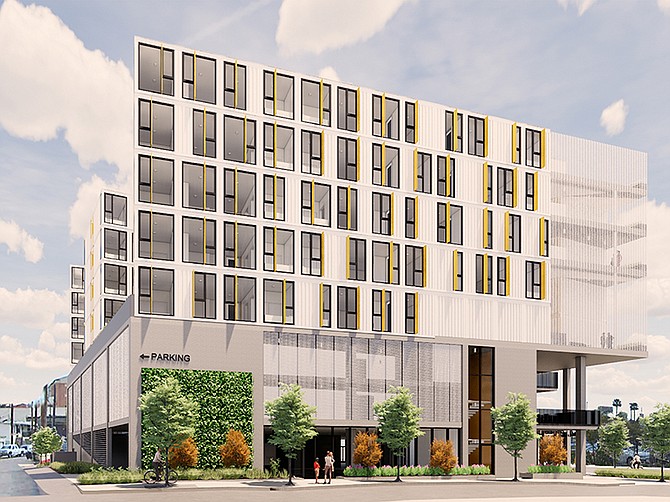 A nonprofit healthcare agency based in Barrio Logan plans to build a $30 million project in City Heights that includes 162 apartments and an expanded clinic for its behavioral health programs.
Designed by LPA Design Studio based in Barrio Logan, the five-story building planned by Family Health Centers of San Diego will use stacked shipping containers to make the apartments that will sit on top of multi-level parking garage.
The 119,000 square-foot building at the corner of Dayton Street and El Cajon Boulevard will be on a 33,846 square-foot site across the street from an existing Family Health Centers clinic at 5454 El Cajon Blvd. and will replace two surface parking lots.
"This is going to be a large campus now," said Fran Butler-Cohen, president and CEO of Family Health Centers San Diego.
Modular Housing
The structure will have underground and above ground levels of parking, a 23,000 square-foot ground-floor clinic and a mix of studio, one-bedroom and two-bedroom apartments.
Construction is targeted to start in the second quarter of 2021,
The shipping containers are turned into modular housing units in Carson and trucked to San Diego, where they'll be lowered by crane onto a podium and other building containers, said Matthew Winter, director of mixed use architecture at LPA Design Studio.
The containers are about eight feet wide by about 20 feet long, Winter said.
"They come from the factory fully finished - painted, with cabinetry, electrical outlets and fully inspected by state inspectors," Winter said. "Studios are two containers but we go all the way up to five containers."
Butler-Cohen described the design for the new building as "very urban, chic looking" and "very pleasant looking."
"I don't think there's anything like that in City Heights or San Diego," Butler-Cohen said. "The property values should go up in the neighborhood because that whole block is going to look a lot better."
The building will be assembled with about 10 to 20 finished shipping containers stacked at a time.
"They're like blocks," Butler-Cohen said. "My first response was 'I could live in one of these."
Winter said the design of the project is meant to retain a kind of industrial feel from the containers, softened by the floor-to-ceiling windows in the apartments and outdoor walkways, staircases and other elements to break up the visual massing.
"We wanted to make sure that we didn't dress up the containers too much," Winter said. "We wanted the façade to use the texture of the containers. We wanted to accentuate that texture with some shading and window patterning."
Besides adding a visual element to the façade, the large windows create an open and airy feel to the apartments.
"We wanted to maximize access to natural light and natural ventilation as part of our sustainable strategy," Winter said.
As part of that, the building will have photovoltaic and thermal solar arrays on the roof to generate electricity and provide hot water.
Amenities will include a dog park, gardens, decks and a children's play area, Winter said.
A Model
The City Heights project is one that others might emulate, Butler-Cohen said.
"You can actually do this in other areas of the city," Butler-Cohen said. "The problem is dirt (land) is so expensive in San Diego. We're going to have to come up with innovative solutions."
Family Health Centers is building the City Heights project in response to what Butler-Cohen said was a "staggering growth" in the demand for mental health services in the past six to seven months.
"In a lot of ways, it's an extension of our health care mission, to provide housing (to clients) so we can focus better on their health care," said Anthony White, director of community and government relations for Family Health Centers.
"We're treating people who don't have housing or adequate housing," White said.
Since the pandemic began, Butler-Cohen said there has been a 71% increase in demand for care and housing, all of that is connected to the demand for mental health services that Family Health Centers of San Diego said it was trying to address with the expansion.
With people losing jobs, housing, businesses closing and people worried about contracting the virus, "all of that has been disruptive," Butler-Cohen said.