Good Corporate Citizenship Draws Praise
Sunday, December 20, 2020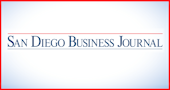 The San Diego Business Journal recognized outstanding corporate citizenship among companies when it presented its Corporate & Social Responsibility and Diversity, Equity & Inclusion Awards on Dec. 10. The inaugural presentation of this event showcased companies who are committed to equity and inclusion.
Speakers at the virtual event presented their views on how businesses, large and small, can best respond to the challenging economic and social conditions of 2020.
"The message today is about reshaping and redefining the notions of diversity, equity and inclusion to build resilience and better business outcomes in these challenging moments," said keynote speaker Donna DeBerry, president and CEO of the Central San Diego Black Chamber of Commerce.
Eight companies received honors.
The first awards went to small companies. CEO Kim Folsom accepted the Corporate & Social Responsibility Award for her business, Founders First Capital Partners. The Diversity, Equity & Inclusion Award went to Computers 2 Kids, represented by CEO Cheri Pierre.
The Lawrence Family JCC received the Corporate & Social Responsibility Award in the medium sized category, and CEO Betzy Lynch noted that social responsibility "is interwoven in the fabric of the organization." The Procopio law firm won the Diversity, Equity & Inclusion award, with managing partner John Alessio offering his thanks.
Cubic Corp. was the Corporate & Social Responsibility honoree in the large public company category. CEO Brad Feldmann said financial success and corporate social responsibility were compatible goals. Sharp HealthCare took home the Diversity, Equity & Inclusion Award. Lisa Allen, senior vice president of Human Resources and Talent Management, said the award would be shared with the employee group known as the Sharp Equity Alliance.
Cox Communications won the Corporate & Social Responsibility Award for large private companies. Sam Attisha, senior vice president and region manager, spoke of how the business was keeping everyone connected via internet during the pandemic. The Suffolk construction firm was the final winner of the Diversity, Equity & Inclusion Award, with Zach Hammond, general manager of the San Diego office, remarking how the business attracts and retains talent by creating an environment where everyone belongs.
Weighing Diversity, Inclusion
Sponsors for the event were Cox Communications, Kaiser Permanente and Sony Electronics. Representatives of each company took part in a roundtable discussion on how companies may better approach diversity, equity and inclusion.
The San Diego Business Journal worked with the Strategic Alliance of San Diego Ethnic Chambers of Commerce to assemble the awards program. The Asian Business Association of San Diego as well as the San Diego County Hispanic Chamber of Commerce joined with the Central San Diego Black Chamber of Commerce to make up the alliance.
Leaders from each of the organizations made up the panel of judges for the awards. Donna DeBerry, CEO of the Central San Diego Black Chamber of Commerce, was joined by Iris Garcia, president and chairwoman of the San Diego County Hispanic Chamber of Commerce and Jason Paguio, president and CEO of the Asian Business Association of San Diego. Paguio is also statewide strategic partnership director with the California Asian Pacific Chamber of Commerce.
"It was an honor and pleasure to represent the Strategic Alliance of Ethnic Chambers of Commerce at the event," DeBerry said following the event. "The distinguished panelists provided enriched recommendations on creating an inclusive culture. I am proud of the San Diego Business Journal's commitment to acknowledging and recognizing diversity and inclusion as a priority for companies. Together, companies can reaffirm their commitment to inclusion, diversity and social responsibility by actively investing resources to these values and attributes."
Challenges and Opportunities
In her keynote speech, DeBerry spoke of redefining notions of diversity, equity and inclusion.
"We are living in unprecedented times and we're in the midst of adjusting to a new normal as companies are responding to the markets. Organizations have no choice but to rapidly adapt their business models," DeBerry said. Leaders are faced with very big decisions, with no precedent to draw on.
Furthermore, different groups in the wider community will experience the events of 2020 in different ways, DeBerry said. Those events include the coronavirus pandemic, civil unrest over racism, political changes and other societal issues. The people who feel disproportionate impacts from those events include parents, women, people of color, people with disabilities and other marginalized groups.
"Although we are in a climate that feels a little gloom-and-doom, I believe that business leaders have the greatest opportunity to really change the way history records our response to COVID-19, economic upheaval and social injustice," DeBarry said.
"How? By investing in people."
She encouraged her listeners to go outside themselves. "This is a great time to be curious, share experiences, engage broadly and inclusively and embrace the chance to really get to know one another," she said.
"Businesses are discovering how powerful a diverse and supportive workforce can be as they emerge from these crises," DeBerry went on to say. "In order to drive better business performance, the need of the hour is to think about D, E and I [Diversity, Equity and Inclusion] as no longer just a matter of regulatory compliance, a nice thing to have, a buzzword, a check-a-box HR activity, or just plain lip service. It's a time to break traditional bureaucracy, these models that don't matter. We need to recognize inclusivity and equity values as an imperative step for dealing with the crises at hand."
She offered a few suggestions on how to do that. They include making sure a company's external look matches its internal reality, and providing the support employees need. They include improving organizational culture, perhaps through new communication strategies or interventions. "Organizational culture is one of the most important differentiators companies can possess," DeBerry said.
In addition, DeBerry said companies must be "future focused, inclusive, agile, innovative, resilient and flexible" as they work with employees.
There is also a need, she said, to create safe spaces for tough conversations, and for deep listening. What's more, there is a need for humility and empathy while speaking with employees who may have been disproportionately affected by biases and blind spots.
Video of DeBerry's speech in its entirety, as well as the rest of the awards presentation, is available at www.sdbj.com/2020_CSR_DEI/
Active Inclusion, Passive Exclusion
Following the keynote was a panel discussion with Cheryl K. Goodman, head of corporate communications and corporate social responsibility at Sony Electronics; Linda Kavanagh, vice president of human resources at Cox Communications; and Dr. William T.C. Tseng, M.D. M.P.H., president of the Kaiser Permanente hospital professional staff in San Diego County. DeBerry served as the moderator.
Tseng spent some of his time addressing the psychological impacts of the current year, the psychology of being an insider versus an outsider, and the scientific evidence underlying these findings.
"We as humans tend to be tribal," he said, and inclusiveness matters very much. "If you're not actively including someone, you're passively excluding people," he said.
Goodman and Kavanagh advocated for employee resource groups or ERGs, which may represent a particular set of employees within a company, such as its Black, Hispanic or LGBTQ communities. Such groups can serve the company as a whole as subject matter experts, Goodman said.
"I think that ERGs are a great way to impact and drive, and morph and develop your company culture," said Kavanagh.
Turning to the current environment, Goodman said it may be the time to move beyond conventional notions of corporate social responsibility. "I believe the new era is corporate social justice," she said, noting that Sony has allocated $100 million for social justice causes.