433 Pairs of Shoes
Sunday, December 20, 2020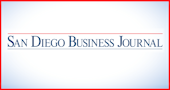 San Ysidro Health hosted its second annual "El Zapaton" children's shoe give-away last week. The drive-thru event provided new shoes, book bags and essential health kits to the organization's pediatric patients – the majority from households of pandemic essential workers. This year San Ysidro Health distributed 433 pairs of shoes to children in the South Bay and East County regions.
"San Ysidro Health is committed to provide comprehensive health services and support to all the region, including parents, many who are essential workers, and families who reside in zip codes where the COVID-19 rate is much higher than the rest of the county," said Kevin Mattson, president and CEO.
A trusted provider of vital healthcare in San Diego's COVID-19 hot spots, San Ysidro Health provides healthcare services across San Diego County.
+++
The American Heart Association, San Diego Division has announced its 2021 Go Red for Women Executive Leadership Team. The team will focus on ensuring that women's heart health does not get lost during the pandemic as cardiovascular disease is still the number one killer of women.
The leadership team includes: Carisa Azzi, chief financial officer and senior vice president, Welk Resort Group; Barb Chodos, president and publisher of the San Diego Business Journal; Andrea Hogan, senior director, Qualcomm; Laura Josh, area vice president, VRC & external affairs, McGregor and Associates, a Gallagher Co.; Trisha Khaleghi, senior vice president and CEO, Sharp Mary Birch Hospital for Women and Newborns, Sharp Mesa Vista Hospital, McDonald Center at Sharp Healthcare; Cecilia Kucharski, business executive; Marie-Aline Zappia-Kuzmack, chief administrative officer, Southern California Permanente Medical Group; Cindy Marten, superintendent, San Diego Unified School District; Juli Moran, managing director Deloitte; Linda Niggli, community volunteer; Donna Marie Robinson, community volunteer; and Sherry Special, senior vice president, Mission Federal Credit Union.
San Diego's Go Red for Women movement is locally presented by VEBA, and the campaign is locally sponsored by UC San Diego Health, Mission Federal Credit Union, Sharp, Deloitte, and the Swinerton Foundation.
+++
Cox Communications will temporarily double the download speeds for its low-income internet service Connect2Compete through the end of the 2020-2021 school year – June 30. As many schools continue to operate virtually, this increased speed will provide families and students help in completing school assignments, communicating with teachers, and give the students the same opportunities to access information that many of their classmates have.
+++
I want to wish all our readers a special Happy Holidays. Next week look for our annual Book of Lists instead of our usual print edition, so may I also be one of the first to wish everyone a healthy and successful 2021.