Cordial Business Expands Internationally
Thursday, December 17, 2020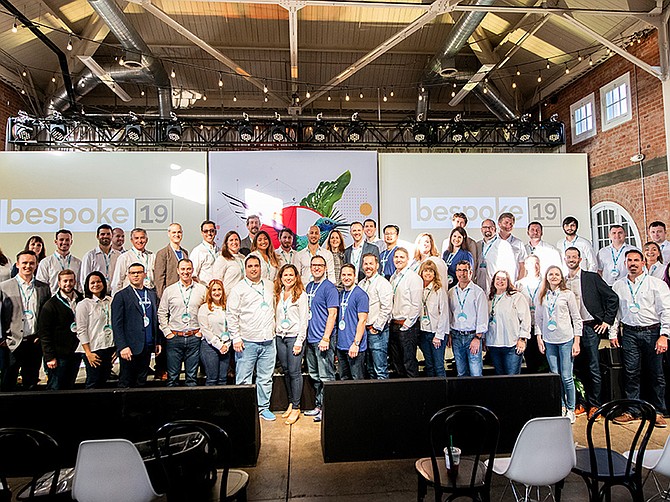 San Diego-based Cordial, which makes machine learning messaging software to power retail and e-commerce direct marketing campaigns, expects to have another year of significant growth despite tailwinds caused the coronavirus pandemic.
Founded in 2014 by three San Diegans, the Downtown-based company has grown its local headcount from 35 to 80, and is helping hundreds of leading brands better communicate with their customers with its platform.
Cordial's chief executive Jeremy Swift and co-founders Adam Gillespie and Chris McGreal were formerly part of BlueHornet Networks Inc. , an earlier generation of email startups.
Cordial provides its clients with a cloud-based platform that collects real-time data from shoppers visiting its customers' websites, mobile apps and other sources to power targeted cross-channel messaging, like email, SMS, app messaging, and direct mail, said Swift.
"We help companies send fewer, more intelligent, & personalized messages to their customers," said Swift. "Today we're helping some of the biggest business-to-consumer brands. Their biggest pain points are dealing with millions of customers that have billions of data points and are trying to figure out  what to do with all the data and how to intelligently use it to create a transformative customer experience."
An adaptive messaging platform powered by machine learning. It learns, understands and adapts messaging based on customers' actions in the moment.
As a simple example, if I look at sunglasses on an e-commerce website, as well as other prospective customers. Cordial's software will remember that and intelligently personalize future messages based on my behaviors .
International Expansion
Cordial works for large "enterprise" customers as well as mid-market customers. It has more than 200 customers, including shoe company TOMS, clothing giant Eddie Bauer, Backcountry, Revolve, among many others.
In addition, Cordial has seen an increase in international brands switching to use its technology, recently adding UK-based Wowcher, the largest British e-commerce deal of the day website as a customer.
"We didn't have plans to expand internationally, until late 2021 but the coronavirus pandemic has accelerated a number of growth opportunities, international expansion being one of them," said Swift. "It opened up some big opportunities for us over in Europe. Overall it's been a big plus for our business."
Raised $24M
Cordial has successfully raised money from a number of prominent investors. It raised $6 million in a first-round of venture capital funding in 2017 and $15 million in a Series B funding in 2018.
The company operates under the software as a service (SaaS) model  and has accumulated "hundreds" of paying clients.
Swift said this has been a significant growth year for the business, which in part is due to new client growth propelled by the coronavirus driving digital commerce, annual revenue was not disclosed.
There are big competitors, including Salesforce, Oracle, and Adobe. Building the platform from scratch, however, allowed Cordial to design more flexibility and features than older email marketing software.
A relatively young company, Cordial aims to further its position as the market leader for enterprise brands in its industry.
2021 Expectations
Looking ahead, the company plans to focus on its international expansion, building out its product features, and continue expanding scaling its headcount in 2021.
"Next year, we expect this to be our greatest growth year ever for the business, primarily because of the investments that we've made over the last several years expanding our product offering and investing in our go-to-market strategy," said Swift. "We believe we are the best-in-class solution within the enterprise."
Cordial is also identified as one of San Diego's Fastest Growing Private Companies and Best Places to Work making two consecutive appearances. In 2017, Cordial was awarded as the top Best Places to Work in San Diego and in 2018.