Home Prices Rising At Near Record Pace
Wednesday, December 16, 2020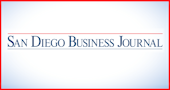 Housing prices are rising faster than they have in more than a decade nationally, with the rise in prices accelerating slightly slower in San Diego County but still well ahead of what they had been.
Zillow, an online home listing and selling service, reported that nationally, intense demand and tightening supply have driven the fastest appreciation in home prices in 15 years.
"Prices have been increasing pretty dramatically," said Jeff Tucker, a researcher with Zillow.
"The first several months from basically last winter were showing pretty modest price growth through winter and spring," Tucker said. "The last few months are really taking off."
The Record
The Greater San Diego Association of Realtors reported that the median price of a single family home in November 2020 was 13.5% higher than it was in November 2019 - $755,000 compared to $665,000.
The median price of condos in November was $484,950, according to the Association of Realtors – a 12.8% increase in a year.
"None of it has been expected and it far surpassed anything we had guessed," said Carla Farley, president of the Greater San Diego Association of Realtors.
The record for month-over-month price appreciation according to Zillow was slightly more than 2.2% set in March 2004.
"The market was really in a frenzy," Tucker said. "That was the time when there were a lot of adjustable rate mortgages and a lot of shoddy practices of handing out loans to everybody with a pulse. That has not been the case this year. When you look at the type of mortgages being issued now, over 90% are fixed-rate mortgages. The credit profile has been very strong."
Driving the rise in prices is an ever dwindling supply of homes on the market.
Price Spurt
The association reported that in November, the inventory of single-family homes for sale was 49.3% lower than it was a year ago and the inventory of condos for sale was 31.3% lower.
Tucker said that the month-over-month spurt in San Diego housing prices is the fastest it's been since 2013.
"The last time prices were growing this fast in San Diego was right after San Diego kind of bounced off the bottom of its price levels in 2013," Tucker said. "We normally see a seasonal slowdown where listings in late summer take longer to sell than early summer and listings in fall take longer to sell than late summer." That's far from true this year.
According to the association, single family homes that a year ago took an average of 32 days to sell were being snapped up in November 2020 in 18 days.
Condos in November took an average of 21 days to sell, down from 30 days in November 2019.
"The inventory is way low," Farley said. "Typically, we like to see about a five-month supply of stock and right now, we're below two months."
Historically low interest rates combined with the effects of the COVID-19 pandemic are driving the housing market.