Soccer Team Opens Store
Tuesday, December 15, 2020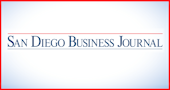 San Diego Loyal SC, San Diego's professional soccer team, has opened its own brick and mortar store.
The Shop at SD Loyal, located in Mission Valley, will sell team merchandise, according to Warren Smith, president of San Diego Loyal SC. This includes jerseys, tee shirts, hats and glasses, among other souvenirs and trinkets.
The business is projected to reach $1 million in revenue by the end of 2021.
Brand Visibility
The mission of the store, said Smith, is to help increase brand visibility.
"The goal is to extend the brand and allow fans to join the movement and participate in the club, both physically and emotionally – wearing our merch is one of the ways they can express themselves as being part of that," he said. "Ultimately, it's about extending the brand and allowing people that have an affinity for the club to show appreciation. And then, through that, get the word out about who we are and what we do."
Opened Dec. 1, the store will follow all CDC protocols, Smith said, meaning it will allow three customers in at a time for social distancing efforts. He said the merch available at the retail space is also up on the SD Loyal online shop.
The location, adjacent to the Fashion Valley Mall, will also serve as the SD Loyal SC headquarters, said Smith.
25% Capacity
SD Loyal didn't play a traditional season because of COVID-19 this year; matches were played behind closed doors, sans fans, and were televised on networks like CW, Fox 5 San Diego and ESPN+, he said.
The 2021 season, which would normally start in March, will most likely be pushed back to late April or early May, said Smith. The reason, he said, is so the team can play its matches in front of fans during its 34-match run, albeit capacity being at 25% for outdoor sporting events, according to state regulations.
With the progression of the vaccine, Smith said he is hopeful attendance will be allowed at 100% capacity toward the end of the season.
Community Tool
Launched June 2019, San Diego Loyal SC is the newest member of USL Championship, a USSF-sanctioned Division II league. San Diego had been without a professional soccer team since 2001, said Smith, adding that his goal is to build a club the people of San Diego feel proud of.
"It's a community tool," he said, "to make San Diego an even greater place to live and play."