Midway District Advisory Group Selected
Tuesday, December 15, 2020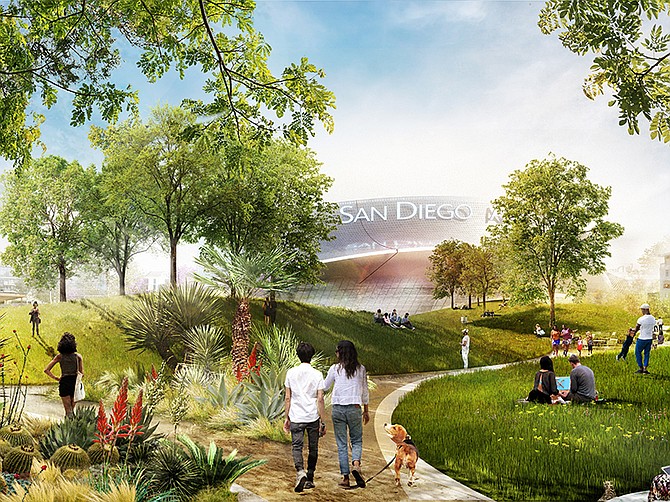 The $2 billion redevelopment of the 48-acre site of the San Diego Sports Arena is starting to take shape with the selection of a community advisory group that will help determine what the project will entail.
"We're looking forward to move forward as expeditiously as possible," said Zach Adams, vice president of development for Brookfield Properties.
"For a project of this importance and something that is transformational, it's really important for us to have public input throughout the entire process," Adams said. "They're going to actively provide input in the shape of the future Sports Arena property."
The team of Brookfield Properties and ASM Global was chosen in August by outgoing Mayor Kevin Falconer to redevelop the Sports Arena property in what is seen as the critical element to transform the entire Midway District.
A key impediment was eliminated in the November election when voters passed Measure E to eliminate a height limit that restricted buildings in the district to 30 feet or less.
"With Measure E, we have an even clearer picture of how we can reimagine the Sports Arena," Adams said. "It really showed that San Diegans want to see the future of the Midway District and the Sports Arena site unlocked."
Brookfield hasn't said when construction might start or given details on what the project would look like or if it would include a new arena
All of that will be firmed up in pending negotiations with the administration of incoming Mayor Todd Gloria and recommendations from the advisory group, Adams said.
In general, he said that design will be geared toward creating a walkable community with a mix of open space, housing and commercial space along with an entertainment center.
It will include more than 2,100 housing units, 590,000 square feet of retail space and five acres of parks.
"We're really focused on working with the city and the community as to what those plans are," Adams said. "There's a focus around creating jobs, creating opportunities for housing and parks in the area."
A Walkable Community
Dike Anyiwo, vice chair of the Midway-Pacific Highway Community Planning Group and a member of the advisory group, said that the workforce housing that the Sports Arena project would include is critical.
"We don't want the luxury high-rise condos," Anyiwo said.
Community members also look to the Sports Arena project to set the tone to make Midway more pedestrian and bicycle friendly.
"We have some really wide streets that are just not comfortable to walk on," Anyiwo said.
Even it its very early stages, the Brookfield Properties project coupled with elimination of the height limit is a catalyst for other projects, according to Anyiwo said
"It was highly unlikely there would be any movement there," Anyiwo said. "Now we're in a place where there are no more excuses. If you have a plan or a project to advance, now is the time to get it done."
Advisory Group
Among those appointed by Brookfield to the advisory group were former City Councilman Byron Wear, Anthony and Chuck Pretto of Kobey's Inc.,
Kevin Sheehan of Phil's BBQ restaurant, Rebecca Lieberman of the San Diego Regional Chamber of Commerce, Nicole Capretz of the Climate Action Campaign, Jason Riggs of the San Diego Stadium Coalition, Chris Duggan of the California Restaurant Association, Andy Hanshaw, of the San Diego County Bicycle Coalition, Jason Paguio of the Asian Business Association, Mark Balmert of the San Diego Military Advisory Council, economist Lynn Reaser of the Fermanian Business & Economic Institute at Point Loma Nazarene University, Sherry Ryan, a professor of urban planning at San Diego State University, Karen Thatcher of Walter Anderson Nursery, Sunny Lee of the Old Town Chamber of Commerce and Coleen Clementson of SANDAG (San Diego Association of Governments).