Kratos Defense Gets Unmanned Aircraft Deals
Tuesday, December 15, 2020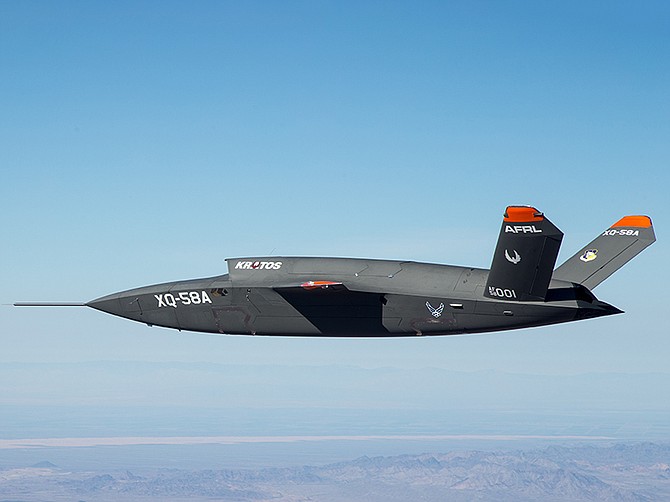 Kratos Defense & Security Solutions Inc. announced on Dec. 8 that it received a $37.8 million award from the U.S. Air Force to integrate, test, and deliver XQ-58A Valkyrie aircraft. The deal is for 24 months and it falls under the umbrella of the Air Force's "Skyborg" program.
Separately, the Air Force awarded a $14.3 million, 24-month deal to General Atomics Aeronautical Systems Inc. of Poway, and a $25.7 million deal to the Boeing Co., for proprietary aircraft from each.
"We appreciate the opportunity to continue work on the Skyborg Vanguard program," said Linden P. Blue, CEO, GA-ASI. "We are always looking for innovative, affordable ways to significantly increase USAF capabilities that address new mission challenges."
Initial vehicles are anticipated to be delivered no later than May 2021.
"Kratos is excited to announce the receipt of the Skyborg DO 2 contract, meeting a long-term strategic objective," said Steve Fendley, President of Kratos Unmanned Systems Division. "The Skyborg Program, one of three USAF Vanguard Programs, is focused on expanding the envelope of the application of unmanned aircraft use, particularly with respect to Artificial Intelligence. Kratos' XQ-58A has been flying since March of 2019, approximately 30 months after aircraft conception, and was designed specifically for these applications and the ability to support missions from ISR [intelligence, surveillance and reconnaissance] to strike in manned-unmanned teaming scenarios or in unmanned only mission sets. These capabilities are intended to substantially increase the effectiveness of our country's military mission sets, while at the same time reducing risk to the exquisite assets and manned elements — saving resources and, most importantly, lives."
The Air Force describes the unmanned aircraft as being "attritable," that is, subject to attrition — or disposable. "Exquisite" aircraft is a reference to the latest manned fighters, which are expensive.
Shares of Kratos trade on the Nasdaq under the symbol KTOS. General Atomics Aeronautical Systems Inc. is an affiliate of privately held General Atomics.
Kratos said its contract includes three phases of design, integration, and flight testing of the XQ-58A Valkyrie system, integrating multiple customer-defined mission payloads and customer-defined autonomy in coordination/cooperation with the Skyborg System Design Agent company, Leidos. Kratos currently works in partnership with Leidos' Dynetics on another unmanned aircraft program called Gremlins.
Air Force Life Cycle Management Center's program executive office for the Skyborg project awarded the contract.
Target Drone Contract Awarded
Separately, on Dec. 10, Kratos said it received an additional $38.7 million contract from the U.S. Navy for Lot 2 of its recently awarded Full Rate Production (FRP) contract for an additional 48 BQM-177A Subsonic Aerial Targets (SSAT) and associated technical data.
"The SSAT is an incredibly high-performance threat representation system consistently providing performance levels previously unachievable," Fendley said. "The exercise of the FRP Lot 2 option secures the uninterrupted production of our SSAT system well into the government's fiscal year 2023. Concurrently, we have been part of the Navy's site activation plan and I couldn't be prouder of the part we played in supporting the first flight at the Pacific Missile Range Facility in Kauai, Hawaii last month. Under Capt. Molly Boron's leadership, the NAVAIR-Kratos team is already halfway to its goal of achieving Full Operational Capability (FOC) in GFY21 [government fiscal year] 2021. Even under normal circumstances, achievement of FOC would be very challenging but to be making the progress we have during this pandemic is a testament both to the Navy's leadership and the commitment and perseverance of the Kratos team during these challenging times."
Hologic to Provide Assays
The U.S. Army recently awarded Hologic a $12.6 million contract to acquire materials for molecular tests to screen for the virus that causes COVID-19. Specifically, the Army will buy Panther Fusion SARS-CoV-2 assays for use on the Hologic Panther Fusion system. The deal runs through April 20.
Hologic is based in suburban Boston. Its San Diego office is responsible for the Panther system. The two varieties of Panther machines were developed in San Diego and are now made in Europe. Hologic runs its business servicing those machines out of San Diego, where it also produces tests.
The U.S. Army Contracting Activity of San Antonio, Texas awarded the deal on Nov. 27. It was announced on Nov. 30.
Five-Year Construction Deals Awarded
The U.S. Navy awarded design-build and design-bid-build contracts to 14 construction companies in various locations of the United States, who may be called upon to do work on Navy and Marine Corps bases in Navy Region Southwest. The region consists of California and five nearby states.
The maximum dollar value including the five-year base period and one option period for all 14 contracts combined is $2.5 billion.
Four San Diego County companies received contracts and are in a position to compete for up to $2.5 billion of work. They are Harper Construction Co. Inc. of San Diego; Heffler Contracting Group, a small business from El Cajon; R. A. Burch Construction Co. Inc., a small business from Ramona; and RQ Construction LLC of Carlsbad. Each was awarded an indefinite delivery, indefinite quantity, multiple-award construction contract for new construction, repair and renovation of commercial and institutional facilities at various government installations located in California, Arizona, Nevada, Utah, Colorado, and New Mexico.
Types of projects that might be awarded under the contracts include airport buildings, office/administrative buildings, communications facilities, vehicle maintenance facilities, armories, parking garages, barracks facilities, prison facilities, fire stations, religious buildings, hotels, dining facilities, hospital/medical facilities, warehouse facilities, school facilities and/or retail facilities.
The contractors will now wait for specific task orders to be issued under the contracts.
This contract was competitively procured as a full and open unrestricted procurement with two reserves for highly qualified small businesses via the beta.sam.gov contract opportunities website with 28 proposals received. The reserves were met by awards to two San Diego County firms, Heffler and R. A. Burch.
The Naval Facilities Engineering Command Southwest of San Diego awarded the contracts, announced on Nov. 30.