Carlsbad Sauce Company Launches Music Division
Tuesday, December 15, 2020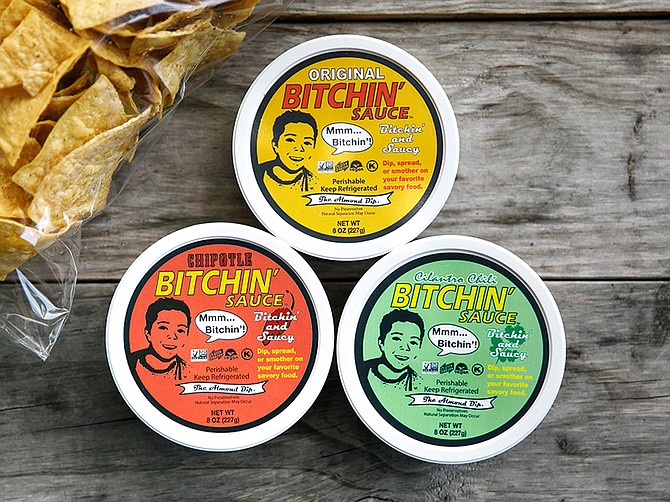 Since launching in 2010, Bitchin' Inc. has found national success via its raw, almond-based sauces.
Doing business as Bitchin' Sauce, its products can be found in nearly 7,000 major retail doors nationwide like Costco, Target, Walmart and Whole Foods. Mostly paired with veggies or chips, the product comes in flavors such as chipotle, cilantro chili and heat.
The multi-million-dollar company would not disclose current revenue figures but did state it has doubled year-over-year. It currently supports 77 employees, growing from 30 staff members in 2018.
And, despite the pandemic, it is on track to double revenue in 2020 again.
Now, Bitchin' Sauce is bringing the heat to the music industry.
Facebook Live Music Series
Over the summer, Bitchin' Sauce released "Bitchin' Sauce Presents," a Facebook Live series of musical performances. The show featured 10 artists, including rock, folk and country music singer/songwriter Lucinda Williams, Los Angeles-based folk band Dawes, Philadelphia's alternative hip-hop band G-Love and Jade Jackson, a country music artist.
Inspired by the success of the series, Bitchin' Sauce decided to further its music business reach with the launch of Bitchin' Music Group in October. Bitchin' Sauce founders Starr Edwards and husband Luke Edwards – a musician himself – signed a deal with music company Universal Music Group for distribution.
"Before Bitchin' Sauce, my husband was a touring musician. For the past two years, we've been freed up as we built up our team, so, he went back on the road and continued to do his music, which is his passion," said Starr Edwards. "This year, he was gearing up to be on tour 200 days out of the year and then he got called off the road in March. We definitely saw the rest of that industry – all of our friends, bands and crew – off the road as well. We decided, in an attempt to help out the industry, we would start 'Bitchin' Sauce Presents,' our online music series. We had friends and artists we met along the way be a part of that, which was cool. At that point, we were like, 'we should keep going with this.' And that's when we decided to get creative and start the Bitchin' label."
Up-and-Coming Artists
Bitchin' Music Group plans to focus on developing up-and-coming artists across genres like Americana, country and rock. The label's first record will be by Luke Edwards, under the moniker L.A. Edwards, and is called "Blessings from Home: Vol. 1." It features Ron Blair and Steve Ferrone of Tom Petty & The Heartbreakers. It was produced by Ryan Hadlock, who has also worked with the likes of the Foo Fighters. The lead single "Trouble" was released on Oct. 30 and the full album dropped Dec. 4. The project will be followed by the release of Vol. 2.
Currently, the Bitchin' Music Group music studio is under construction in Nashville, where future artists will be able to record.
Affected by COVID-19
Luke Edwards said the label's immediate goal is not to crank out radio hits. Instead, it is to support a curated list of artists who have been affected by COVID-19.
"We've lost revenue from live music gigs, so, this is more of an investment in our music and others'," he said. "The label will be boutique, for people whose art we respect. It's just to say, 'we respect what you do, so, just keep doing what you are doing.' It's hard to build a fanbase right now and get to the point where a lot of bigger labels are interested. This is a record deal type of situation where we pay for them to make records in order to help them keep going, especially for emerging artists. It's kind of a relief effort."
Since COVID-19, the Bitchin' team has thought up various ways to strategically pivot and keep growing the brand.
In May, shortly before Bitchin' Music Group launched, Bitchin' Sauce founded Bitchin' Giving, its charitable arm. It was inspired by the start of Bitchin' Kids, said Starr Edwards, the company's in-house employee-focused childcare service. (Bitchin' Kids launched in 2019.)
Now, it hopes to expand the for-profit program to aid foster kids in the region, she said, and to empower the Bitchin' team to volunteer in the community through paid hours.
Christmas Tree Lot
Starr Edwards said Bitchin' Sauce has been blessed to be an essential business during the pandemic and now wants to do all it can to give back. Recently, the company had a Christmas tree lot for people that have aged out of the foster care system and are now living on their own, she said.
Moving forward, Bitchin' Sauce plans to continue to work with the likes of I Love a Clean San Diego, which hosts clean up events throughout the county; the San Diego Rescue Mission, a non-profit that assists homeless in transition; and the North County Food Bank, among other organizations.
"Since everyone is kind of struggling right now and anxious, we feel like having the opportunity to give back is so important," she said.