Sony Helps Upgrade Tech
Monday, December 14, 2020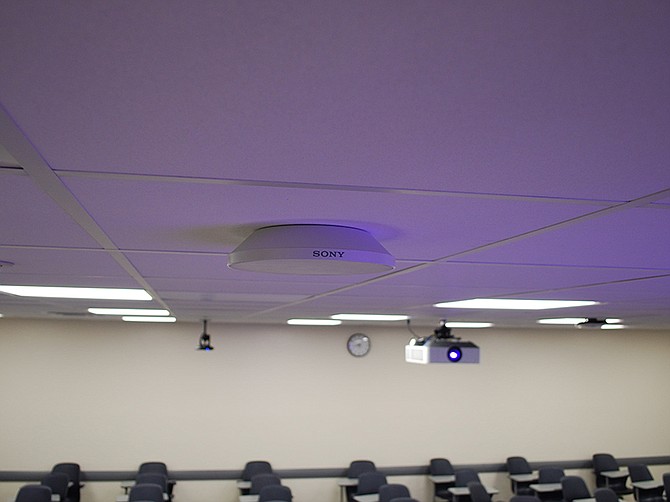 San Diego's Sony Electronics is helping universities with its technology upgrades as colleges across the U.S. transition to a hybrid classroom model, mixing in-person and distance education.
Its new microphone, which is designed for a range of lecture and presentation environments, has been flying off the shelves due in demand for touch-less technology solutions.
Touch-less Microphone
The product called the MAS-A100 offers a number of beneficial features that enhance acoustic experiences, in-classroom or at-home, including the ability to record lectures for on-demand purposes.
"As universities navigate new ways of instructing and connecting with students remotely, audio has become a primary area of focus. The pristine sound quality of our beamforming microphones builds a solid foundation for increasing interactivity, while enabling a two-way dialogue that enriches learning," said Theresa Alesso, Pro Division president, Sony Electronics.
For universities, the product is an easy to install microphone that minimizes ambient noise and has a dual-channel output for simultaneous recording that captures instructor's and students' voices, among other features.
Developed over a four-year period, the product became a huge success this year, in part due to teachers needing better audio while having a touch-less component.
"Our MAS-A100 beamforming microphone wasn't developed for the pandemic, it was developed after listening to our customers. We needed the ability to have dual channel output so that we could be able to record not just the instructor, but also the student. Therefore, this great product was born," said Alesso. "And as a result with the timing of the health and safety protocols, it was a home run."
Sony serves a consortium of schools including San Diego State University, Indiana State University, Montclair State University, American University, among others.
Upgrading At SDSU
SDSU has outfitted classrooms with Sony's new microphone technology for the fall semester.
The college installed 68 of Sony's MAS-A100 beamforming ceiling microphones, at its main campus and Imperial Valley campus.
"As we refreshed the design of our classrooms due to the pandemic, we sought a touchless experience to safeguard employees and adhere to health and safety protocols," said Rudy Arias, associate director of Instructional Technology Services at SDSU. "We were looking for an audio solution that would be hands-free, easy to implement, cost-effective and offer high-quality sound from any location."
"When we were introduced to the Sony IP ceiling microphone through a virtual demo, we placed our order within hours," he said. "We knew right away that it met our list of requirements and would be a reliable solution for our new hybrid classroom experience."
The team is currently installing them across our two campuses to make a bigger impact and facilitate a more engaging educational experience for teachers and students alike, with plans to add more units in the future.
"Our focus is using the best tools that provide the highest value, given our ecosystem," said James Frazee, director of Instructional Technology Services at SDSU. "In terms of our commitment and investment in learning technologies in our built environments. We're really focused on trying to maintain a safe environment for our students, our faculty, and members alike."
Beginning Jan. 20, classes will be held entirely online as the university implements its student re-entry plan. SDSU only is offering a limited number of full or partial in-person courses for the spring, largely in subject areas such as science, engineering and fine arts requiring some degree of face-to-face instruction, according to the university.
Rich Opportunity
"We are running at a point where we're trying to keep up with demand. We have many customers, whether it's corporate or education," said Alesso. "We see this as the beginning of a much richer opportunity for both us and our customers to create high end remote work flow for their needs."
Sony's education business unit isn't as significant as its other verticals, just yet. Although Sony's executives are betting the investment will create a profitable and sustainable revenue stream as more organizations turn digital.