Arcturus Seeks to Raise $150M
Friday, December 11, 2020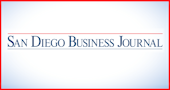 Arcturus Therapeutics is looking to raise $150 million to fund efforts to develop a COVID-19 vaccine.
The local biotech is offering nearly 1.37 million shares at $110 apiece. 
Arcturus plans to use the money to test and manufacture its experimental COVID-19 vaccine, which uses a snippet of the coronavirus's genetic code to spark a protective immune system.
Piper Sandler & Co., Guggenheim Securities and Wells Fargo Securities, which are underwriters on the deal, have the option to purchase another 200,000 shares.
Founded in 2013, Arcturus has partnerships with Johnson & Johnson, Ultragenyx Pharmaceuticals, Takeda Pharmaceuticals and others to develop RNA-based therapies. These programs target several conditions, including Hepatitis B, Cystic Fibrosis and steato-hepatitis, a liver disease. The company employs about 100 people.