Nashville Hot Chicken Trend Takes Off in San Diego
Thursday, December 10, 2020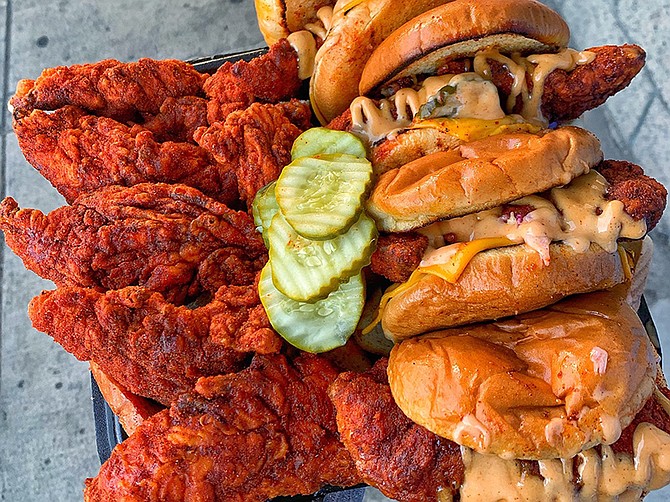 Last year, in large part due to a battle between national fast-food chains McDonald's, Popeye's and Chick-Fil-A, fried chicken sandwiches were all the rage.
Now, Nashville hot chicken appears to be the next big chicken trend; it landed on top trend lists for 2020 for both Yelp and media company PopSugar.
San Diego operators have taken notice.
Nashville hot chicken is normally presented in the form of chicken sandwiches, wings and strips. The chicken is fried, then bathed in a blend of hot oil and spices. Different Nashville hot chicken brands have created their own variations of the sauce or added their own twists to it, like sugar, garlic or additional hot sauce. It is usually served with coleslaw and pickles.
Prince's Hot Chicken Shack
FireBirds Chicken opened in late 2019 in City Heights. Since, a handful more Nashville hot chicken concepts have popped up in the city. Dave's Hot Chicken, based in Pasadena and with six stores, opened its first San Diego store in Pacific Beach in May. Two more franchised Dave's, in Mira Mesa and El Cajon, are scheduled to open locally early next year. Main Chick, headquartered in Los Angeles and with three previous stores, opened its first San Diego location – the company's first franchise – within Clairemont Town Square late last month.
"The story about Nashville chicken, the original concept, was about a woman whose husband was cheating on her in Nashville," explained Bill Phelps, CEO of Dave's. "She was so mad, she said, 'I'm going to get even.' She took fried chicken and took the hottest spices she could find in the world to get even with him. He ate it and said, 'this is delicious!'
That man, an African American fellow named Thornton Prince, went on to open a restaurant, Prince's Hot Chicken Shack, in the 1930s in Nashville. That establishment is still up and active today.
But it wasn't until last year that the Nashville hot chicken trend took off nationally.
The Chicken Sandwich War
While he isn't quite sure why the Nashville hot chicken craze has taken off now, Phelps said he believes the chicken sandwich war of 2019 might've had something to do with its recent spike in popularity. Although, he assures none of the fast-food chains chicken options can compare with Nashville hot chicken – specifically Dave's – in terms of flavor and quality.
Abe Kesablyan is the co-owner of FireBirds Chicken in City Heights, the first Nashville hot chicken restaurant in San Diego County, he said. He also believes the 2019 chicken sandwich war helped catapult the Nashville hot chicken trend nationally last year. He said Los Angeles was the first city outside of Nashville to catch on, with the founders of Main Chick and Dave's both getting their start there. The numerous positive Yelp reviews those operators received is what helped spread the word even further, he said, sparking curiosity in San Diego restaurateurs like him.
Howlin' Ray's in Los Angeles
"That is what got the ball rolling for this trend – in L.A., the top spots on Yelp are always Nashville hot chicken," he said. "People started to take notice and say, 'let me go try it out myself.' That's why people started to want to bring it down to San Diego. There was none here. Howlin' Ray's in Los Angeles is the godfather of Los Angeles-based Nashville hot chicken, and there's always a two-hour line there."
Phelps from Dave's said, naturally, San Diego became an attractive tertiary market because it is neighboring to L.A. It's newly found and highly touted reputation as a foodie city also helped the trend make its way here, he said. Phelps added that Dave's sold the rights to 280 franchise stores in just a year, since launching the franchise business late 2019. He said San Diego is expected to open two new Dave's locations per year moving forward.
Another factor that has helped grow the Nashville hot chicken fad is social media, said FireBirds' Kesablyan. Nashville hot chicken lends itself to great Instagram photos because the spices make the product look vibrant and mouthwatering, he said.
"The food is so photographical," said Andrew Feghali, Dave's Hot Chicken San Diego region franchisee with partner Lawrence Qouie. "I've never seen food photograph so beautifully. It makes you salivate and once you see it, you want to try it."
Millennials Major Influencers
Kevin Popok, co-founder of Main Chick, agrees. He started Main Chick as a ghost kitchen at the end of 2019, selling out at night markets through the summer months. He said the Main Chick Instagram handle started off with 100 followers then. And, by the end of this summer, it had over four thousand, with millennials being major influencers of the food trend.
The Main Chick Clairemont Town Square location opened in November, and, so far, it has 50 Yelp reviews, said Popok. He also said, while only open a few weeks, the store is doing as well as all the Los Angeles locations, even through the COVID-19 pandemic.