Sharp HealthCare Collects 1,290 Pints of Blood
Wednesday, December 9, 2020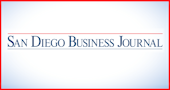 Sharp HealthCare announced on Dec. 9 that it has collected 1,290 pints of blood at its facilities across the county from employees, their families and friends, as a part of their Sharp Lends a Hand community outreach program.
The result was enough to name Sharp as San Diego's largest single donor of blood products to the San Diego Blood Bank in 2020.
As San Diego's leading health care provider, Sharp hospitals use approximately 24,000 units of blood products each year to care for their patients. The San Diego Blood Bank is the primary provider of blood products to Sharp hospitals across San Diego.
Sharp employees, their families and friends were encouraged to donate blood at mobile drives at Sharp locations or at any San Diego Blood Bank donor center or mobile drive. While the COVID-19 pandemic resulted in the cancellation of 22 planned blood drives, Sharp was able to host 47 blood drives at various Sharp locations throughout San Diego.