Local Startup Takes First
Wednesday, December 9, 2020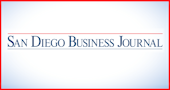 Advice Analytics, which provides predictive analytics software for 401k retirement plan compliance, has won $235,500 at the 18th Seattle Angel Conference event bringing its total raise to nearly $1 million.
For this year's conference, there were nearly 60 companies that applied, with 45 investors participating. The San Diego-based startup became the first company outside of Seattle to win.
"Last year, we participated in the San Diego Annual Conference but we weren't selected into the top six as a finalist. I understood why and proceeded to build the business and learn from the shortfalls that we had. We then put it all together for the Seattle conference, which Mysty Rusk from The Brink SBDC introduced us to," said Jerry Yen, co-founder and CEO at Advice Analytics. "We're honored to have been selected as the sole winner, to what the organizers have called one the best group of startup finalists they've ever had."
Predictive Technology
Founded in 2019, Advice Analytics aims to help employers and recordkeepers with 401K compliance needs by automating data collection and other analysis.
Led by CEO Jerry Yen and CPO Yashar Ahmadpour, its mission is to create smarter management of 401(k) plan compliance and help secure the retirement futures of American workers.
Its software enables recordkeepers, consultants and plan administrators to ensure they are maintaining compliance.
The company claims to be mitigating around $12 billion in compliance risk.
"We're solving a very complex problem. Advice Analytics was built to specifically help those that fall under the $125,000 a year in salary category," said Ahmadpour, co-founder and chief product officer at Advice Analytics. We help the average person have a safe, secure retirement, which will impact millions of people."
Paying Customers
Still an early stage startup, the company has about a dozen clients using its solution so far.
Yen said its product has already made around $50,000 in revenues this year and has recently secured a contract with a large enterprise customer that will target 11 million participants.
"We're currently in active discussion with very large household names that are interested in our product offering," said Yen. "As of now, our focus is to continue building the company, driving growth and sustainable revenues."