Redevelopment to Reshape Part Of Central Mission Valley
Tuesday, December 8, 2020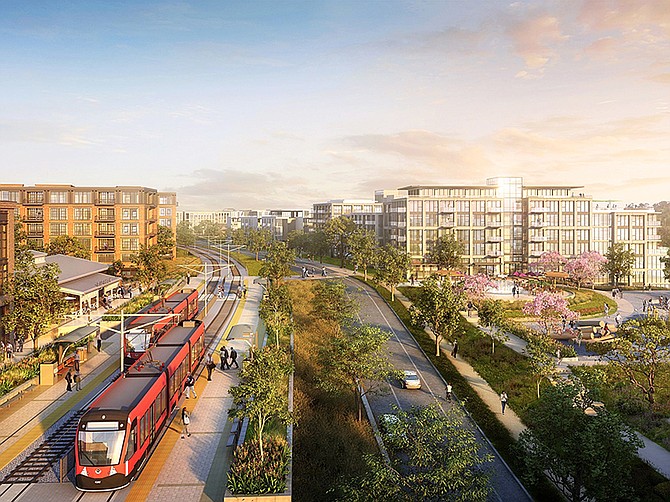 A $3 billion redevelopment project that will reshape a central part of Mission Valley is going into final design work following San Diego City approval.
Hines based in Houston hopes to break ground in late 2021 on the 200-acre project along Fashion Valley Road and Friars Road, said Eric Hepfer, managing director of Hines.
"Now, as far as we're concerned, the real work begins as far as moving the development forward," Hepfer said. "We're thrilled to be at this point."
The first of the 15-year construction project will be ready for occupancy toward the end of 2024 with build-out tentatively planned for 2035, Hepfer said.
"It's going to be a bit determined by the market, he said.
Transformation
The project will transform the Riverwalk Golf Course into a mixed-use community that will include a new trolley station.
Hines was chosen as the developer of the project in 2015 by the Levi-Cushman family, which owns the property.
The project was unanimously approved by the council Nov. 17.
The Riverwalk project will include 4,300 rental apartments including 430 affordable units for people earning 65% of the area median income and for-sale condominiums.
There also will be 1 million square-feet of office space and 152,000 square feet of retail shops.
A $10 million trolley station also will be built by Hines at no cost to the city.
Hines committed to building the trolley station within the time that the first 3,386 residential units of the project are completed, Hepfer said, adding that discussions on the timing are ongoing with the San Diego Metropolitan Transit System.
"We will potentially build that earlier," Hepfer said. "It's a balance between getting enough units on site to warrant demand."
With connections to the new blue line trolley extension to UTC, "We will be able to access the major job centers, which we think is a game changer," Hepfer said.
80-Acre Park
The project will include more than 100 acres of open space with an 80-acre park along the San Diego River on what is now a 27-hole golf course, which will continue to operate during the initial construction phases.
"We will be developing along Friars Road on the north side, which will mean that the golf on the other side of the train tracks will continue to run for at least five years while we build out on the north side,"Hepfer said.
The first phase will include "several hundred units of residential along with community-serving retail to get the project going," Hepfer said.
Hepfer said some adjustments have been made in the project design based on community feedback, including lowering the height of buildings to a maximum of seven stories, with buildings that abut adjacent property at the east and west edges of Riverwalk lowered to four and five stories.