Launch Factory Recruits Tech Industry Veterans
Tuesday, December 8, 2020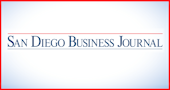 Launch Factory, a startup studio which pairs founders with ideas to build profitable companies, last week announced that local technology veteran Andy Ballester and venture capitalist Kim King have joined its executive team.
Founded in 2018 by Brad Chisum and James Hereford, Launch Factory is a relatively new company in San Diego.
Investing $300,000
The firm operates as a hybrid between a business incubator and an investment firm, investing $300,000 into startup ideas and helping the companies grow.
The main difference for Launch Factory is their unusual method of finding founders to lead their startups.
Unlike a typical accelerator, Launch Factory's model is similar to "venture studios," in which venture capitalists fund and incubate startups in-house, later matching skilled executives to their ideas.
Its founders receive a $50,000 annual salary out of the $300,000 investment, opening the opportunity up to applicants who can't take a year off from paychecks to dabble in entrepreneurship.
In addition, Launch Factory provides its founders two years of incubation services including office space, mentorship, and processes that are geared toward addressing common causes of startup failure.
"At Launch Factory we start as early as you can get, so it's really hard to look at our stage and say this is the next unicorn, but we do go after markets for which unicorns are absolutely possible," said Chisum. "Ultimately, we want that upside potential to be unlimited, so we work aggressively to help our companies build something of value and get to the exit point."
So far, the Mission Valley studio has successfully launched three startups, with ambitious plans to launch four in 2021.
New Members
King, who remains a co-director of StartR programs at Rady School of Management, became a partner at Launch Factory. Formerly, she was a general partner with IDG Ventures helping manage a $120 million fund.
Ballester, best known locally as co-founder of GoFundMe, the world's largest online fundraising platform, joined as an entrepreneur in residence at the firm.
"Most of our background lies mostly on the entrepreneurial side. Kim will bring the investor mindset, which was our missing piece," said Chisum. "The fact that she wanted to join Launch Factory is very validating for our model. We don't have many people in town that have been a big time VC. She's hard to beat and has a great reputation."
"Andy is the other major addition to the team, who was the former CTO and co-founder of GoFundMe. In San Diego we don't have that many household name startups and they happen to be one of them. We're super excited to have both of them join our team," he added.
$2.5M Fund
The firm is also seeking to close its first annual fund.
The firm has received about $4 million in total interest from local investors seeking to participate and expects to close a $2.5 million fund by the end this year.
Chisum, best known locally as the former CEO of Lumedyne Technologies, which was acquired by Google for $85 million in 2014. Chisum worked for Google as a tech executive for two years before moving back to San Diego.
Chisum brought along Hereford from Google to help lead the new venture. Chisum serves as the chief executive officer, and Hereford is Launch Factory's chief operations officer.
"I am energized to be a partner and working more closely with the Launch Factory (LF), a San Diego based venture studio. After serving as a strategic advisor this year, I decided to join this impressive team to engage in managing the LF portfolio," said King. "Launch Factory levels the playing field and is a win-win for entrepreneurs and investors. I am excited to support launching of the 2021 ideas and recruiting for our new founders using our unique merit-based approach."