First San Diego Qdoba Opening Dec. 11
Tuesday, December 8, 2020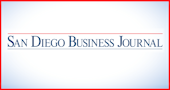 Qdoba Mexican Eats, the San Diego-based fast-casual Mexican food chain with 730 locations across 47 states and Canada, is opening its first local restaurant on Dec. 11.
The Mission Valley, company-owned store will be 2,400 square feet and will bring 40 jobs to the region, according to Tim Welsh, chief development officer for Qdoba. The location will feature a walk-up pick-up window, he said, as well as outdoor dining and a curbside option that allows for orders to be dropped off with customers at their parked cars. Digital ordering and delivery on the Qdoba site and mobile app, third party delivery and catering for both B2B and B2C channels will also be available.
Look, Feel and Operate
For Welsh, this isn't just an opportunity for Qdoba to open its first San Diego store, it is a chance to rethink how formats and prototypes will look, feel and operate in the future.
"From a look and feel perspective, how we've always thought of the restaurant is bringing the highest quality food in a convenient format to guests," he said. "With Mission Valley, we updated the look and feel to elevate the brand and reflect the quality of the food and ingredients we are known for. So, there is more natural woods and fresh, modern materials like hand-crafted tiles. We are hoping to bring the vibrancy and flavor we have in our food to our environment."
On the operations side of things, Welsh said Qdoba has been developing a whole new suite of models. This include the addition of the pick-up window option, for example, which is particularly convenient during the COVID-19 pandemic. The company is also considering making other changes to the Qdoba format, he said, like the implementation of drive-thru windows, opening more ghost kitchens and smaller footprint stores.
Ghost Kitchen
Qdoba has run as a ghost kitchen in San Diego for two years up to now, said Welsh, operating out of its corporate headquarters kitchen and closing only in anticipation of the Mission Valley store. He said the concept proved to be a successful way to create brand awareness before opening a brick-and-mortar location. Now, the company is considering launching the ghost kitchen models in other parts of the country ahead of opening future stores.
Welsh said, even through the pandemic, Qdoba has had a lot of interest, including franchise groups wanting to invest in Qdoba locations. For this reason, he is very optimistic.
"Obviously, it took a little time to get the store right, and with COVID-19, we faced some natural delays through the process," he said. "But we've seen a tremendous amount of interest and activity, and that has been reflected in other stores. Plus, we do so much of our business through off-premise and take-out, as well as third-party delivery apps, that this store is really set-up perfectly."